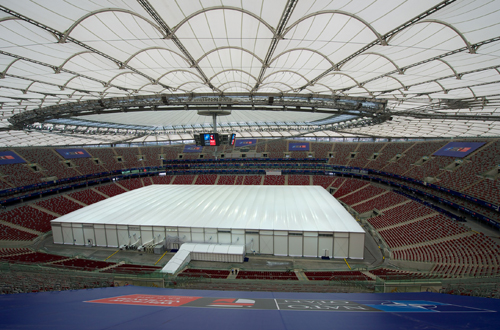 PGE National Stadium in Warsaw – the venue of the summit. Photo: NATO
The Georgian delegation, led by President Giorgi Margvelashvili is in the Polish capital Warsaw for NATO summit on July 8-9.
Accompanied by the Foreign Minister; Defense Minister; the State Minister for Euro-Atlantic Integration; secretary of the National Security Council, the President will participate in a meeting of leaders of NATO members and partner countries contributing to the Resolute Support mission in Afghanistan on July 9.

NATO-Georgia Commission at the foreign ministerial level will be held on the sideline of the summit on July 8.
The Georgian Defense Minister will participate in a meeting of NATO defense ministers with their counterparts from 25 partner countries, which cooperate with the Alliance on interoperability on July 9.
Georgian officials say that Tbilisi's goal at the summit is to get additional practical tools from NATO to help the country increase its self-defense capabilities.
Speaking at a government session on July 7, Georgian PM Giorgi Kvirikashvili said that Tbilisi expects "further expansion of substantial package" of cooperation with NATO, which the Alliance offered to Georgia at its summit in Wales two years ago, as well as reiteration of the 2008 NATO Bucharest summit declaration that Georgia will become a NATO member.
"We think that after the Warsaw summit, Georgia-NATO substantial package will expand even more thus bringing higher degree of security in Georgia and increased defensibility," - Giorgi Kvirikashvili stated.
Although NATO foreign ministers said in December that Georgia has "all the practical tools to prepare for eventual membership", they also reaffirmed that before joining the Alliance the country should go through a Membership Action Plan (MAP) phase, which Georgia has been denied since 2008. Granting MAP to Georgia at the Warsaw summit is not expected.
Georgian officials say that decision on MAP, when there is a consensus on it within the Alliance, will actually be a political one, which might be equivalent to invitation to join NATO.
Visiting Tbilisi ahead of the Warsaw summit this week, U.S. Secretary of State, John Kerry, said that although there has been a slowdown in process of Georgia's NATO membership due to international challenges, it should not be viewed as a moment of despair.
Speaking at a news conference in Tbilisi on July 6, Kerry said that the U.S. remains firmly committed to NATO's open door policy and reiterated that the U.S. stands by the 2008 NATO Bucharest summit declaration that Georgia will become a NATO member and "we will stand by this statement in Warsaw."
He said that "there have been reasons for slowdown in process" as there are lot of international challenges, among them related to Ukraine, Syria.
"But Georgia is already an important NATO partner and the people of Georgia should really look very positively on what Georgia has accomplished," Kerry said. "So I would not view this as a moment of despair or a moment of setback, I would view it as a continuing process by which the confidence is built and timing becomes appropriate for the final steps to be taken."