The PM outlined govt's 4-point plan;
Reiterated to ensure 'a free and fair election' on Oct.8;
'On October 8 the people of Georgia will win';
'Ongoing occupation the greatest existential challenge';
Condemned 'Moscow's annexation policy';
Spoke of 'newest versions of the Glienicke Bridge';
'Barbed wire fences installed by the occupiers divide communities';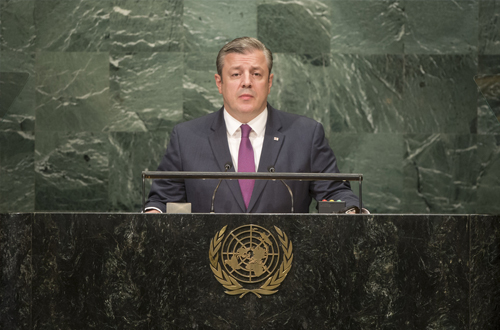 Georgia's PM Giorgi Kvirikashvili address UN General Assembly in New York, September 21, 2016. Photo: UN
In his address to the UN General Assembly, PM Giorgi Kvirikashvili outlined his government's four-point plan, reiterated to secure holding of free and fair elections early next month and condemned "Moscow's annexation policy" of Georgia's breakaway regions.
"We have made great progress in building strong and effective state institutions, ensuring: a free civil society; free media; free markets; social cohesion, and the rule of law," PM Kvirikashvili said in a 20-minute speech on September 21.
The bulk of his speech was about, what he called, his government's "vision" how to translate UN Sustainable Development Goals into concrete actions and in this context the PM focused on "a comprehensive 4-point plan" – involving "liberalizing taxes further and promoting entrepreneurship; good governance; regional and infrastructure development; and education reform. The 4-point plan is also a central part of a campaign program of GDDG ruling party, chaired by Kvirikashvili, for the October 8 parliamentary elections. In his speech the PM reaffirmed to ensure free and fair elections.
On "promoting good governance", the PM mentioned planned "Business House" in Tbilisi, a one-stop-shop for businesses, modeled after already existing Public Service Halls, where citizens get multiple services from various state agencies under the single roof. He also mentioned decision not to apply corporate income tax to undistributed profits starting from January, 2017.
On education he spoke of the reform plan that will help graduates of a professional or higher education institution "to be able to find his or her place in a competitive labor market." He also mentioned the launch of construction two new private technical universities, with an estimated development cost of EUR 1 billion. Groundbreaking ceremony of one of those university campuses in Kutaisi was held on September 12; the project is financed by billionaire ex-PM Bidzina Ivanishvili.
"We will soon be able to offer some of the best education opportunities in our region," PM Kvirikashvili said.
He also said that "more than 5 billion USD" will be invested in "connectivity and infrastructure in the next 4 years."
Last week the PM presented country's Spatial Planning Project, which, among other issues, also includes building and reconstruction of network of highways and roads with a total length of about 1,000 kilometers by the end of 2020 with an estimated cost of around USD 3.5 billion, which the government wants to fund through public-private partnership projects.

'We are Ensuring a Free and Fair Election Process'
The PM said that the ongoing campaign for the October 8 parliamentary elections, which formally started in early June, "has been evidence of Georgia's real democratic development."
"With a free and pluralistic media and political environment, strong and vocal civil society, and the relevant legislative and institutional framework, we are ensuring a free, fair and transparent election process," he said.
"On the 8th of October the people of Georgia will win, and our democracy will continue driving our country to a sustainable future," the PM added.
'Bolstering Rule of Law'
The PM said that over the past four years, the Georgian government has "taken major steps to bolster the rule of law."

"We overhauled the court systems, the prosecutor's office, judicial ethics, and attorneys' responsibilities. We gave more rights to defendants. We ended impunity by government officials. All Georgians are now equal before the law and can benefit from a judiciary system that has gone through several waves of reforms to reach higher levels of independence and professionalism," he said.
The outgoing Parliament has failed to adopt a package of bills known as the "third wave of the judicial reforms", introducing, among other issues, electronic case assigning system that would have provided for randomly assigning cases to judges, minimizing the role of court chairpersons in the process.

'The Newest Versions of the Glienicke Bridge'

PM Kvirikashvili described barbed wire fences installed by the Russian troops at the administrative boundary lines of Abkhazia and South Ossetia as "the newest versions of the Glienicke Bridge", which was a border between West Berlin and East Germany during the Cold War.
In one of his UN speeches, ex-President Mikheil Saakashvili drew parallel with the Berlin Wall when speaking about Russian occupation of Georgia's breakaway regions.
PM Kvirikashvili said that "the ongoing occupation and steps towards annexation remain the greatest existential challenge inherited by our government."
"20 percent of our country is occupied by foreign troops, who took it by force. Hundreds of thousands of people continue to be denied the right to return to their homes," PM Kvirikashvili said.
"We are building a country that will ensure the unification of war-torn communities and abolish the newest versions of the Glienicke Bridge, which exist in the 21st century due to the continuous occupation of two of our regions, dividing peaceful societies on both sides," the Georgian PM said.
He thanked the UN General Assembly for supporting resolutions, calling for return of the refugees and internally displaced persons back to their homes in Abkhazia and South Ossetia. Tbilisi-sponsored resolution, opposed by Moscow, is adopted annually since 2008 by the UN General Assembly; the Abkhaz and South Ossetia sides, backed by Russian negotiators, refuse to discuss the issue of return of IDPs at the Geneva international discussions as long as Tbilisi keeps on putting its resolution before the UN.
When speaking about this resolution, the PM called on the UN "to translate this measure of support into action."
"Barbed wire fences installed by the occupiers divide Georgian families and communities," he said. "The populations in the occupied regions endure constant ethnic discrimination and gross human rights violations."
"Their freedom of movement and their property rights are restricted. They are even denied education in their native languages," the PM said and condemned holding of elections to the Russian State Duma in Georgia's breakaway regions as "another part of Moscow's annexation policy."
He said that the Georgian government has been seeking "a workable solution" with Russia and has made "some concrete progress in de-escalating tensions."
"But Georgia's steps forward have not all been reciprocated," the PM said, adding that Moscow has not honored terms of the 2008 EU-mediated six-point ceasefire agreement.
Reiterating Tbilisi's commitment to solve conflicts peacefully, he also said Georgia will "continue to respond to the concerns of people living in the Abkhazia and Tskhinvali regions and reconcile the war-torn communities across the occupation line."
"To this end, we will make all benefits of our European agenda and economic opportunities available to the people residing in the occupied territories," he added.
On foreign policy, the PM said that Georgia aims at building "strong, mutually beneficial partnerships with the countries of our region and beyond."
"We are an aspirant country to NATO, having the deepest and most comprehensive partnership with the Alliance," he said.
And on the EU, he said Georgia is "an Associated country" of the bloc with its Association Agreement, which is harmonizing policies, institutions, sectors and market rules with those of the European Union.

On the sideline of the UN General Assembly in New York, the Georgian PM met U.S. Deputy Secretary of State Antony Blinken; German Foreign Minister Frank-Walter Steinmeier; Belgian PM Charles Michel; Slovak President Andrej Kiska; PM of Moldova Pavel Filip; President of the European Council Donald Tusk and EU foreign policy chief Federica Mogherini. He also addressed the UN General Assembly's first-ever Summit for Refugees and Migrants, as well as a high-level meeting on the role of efficient and open institutions in the implementation of UN Sustainable Development Goals, organized by Georgia, Estonia, South Korea and UNDP.