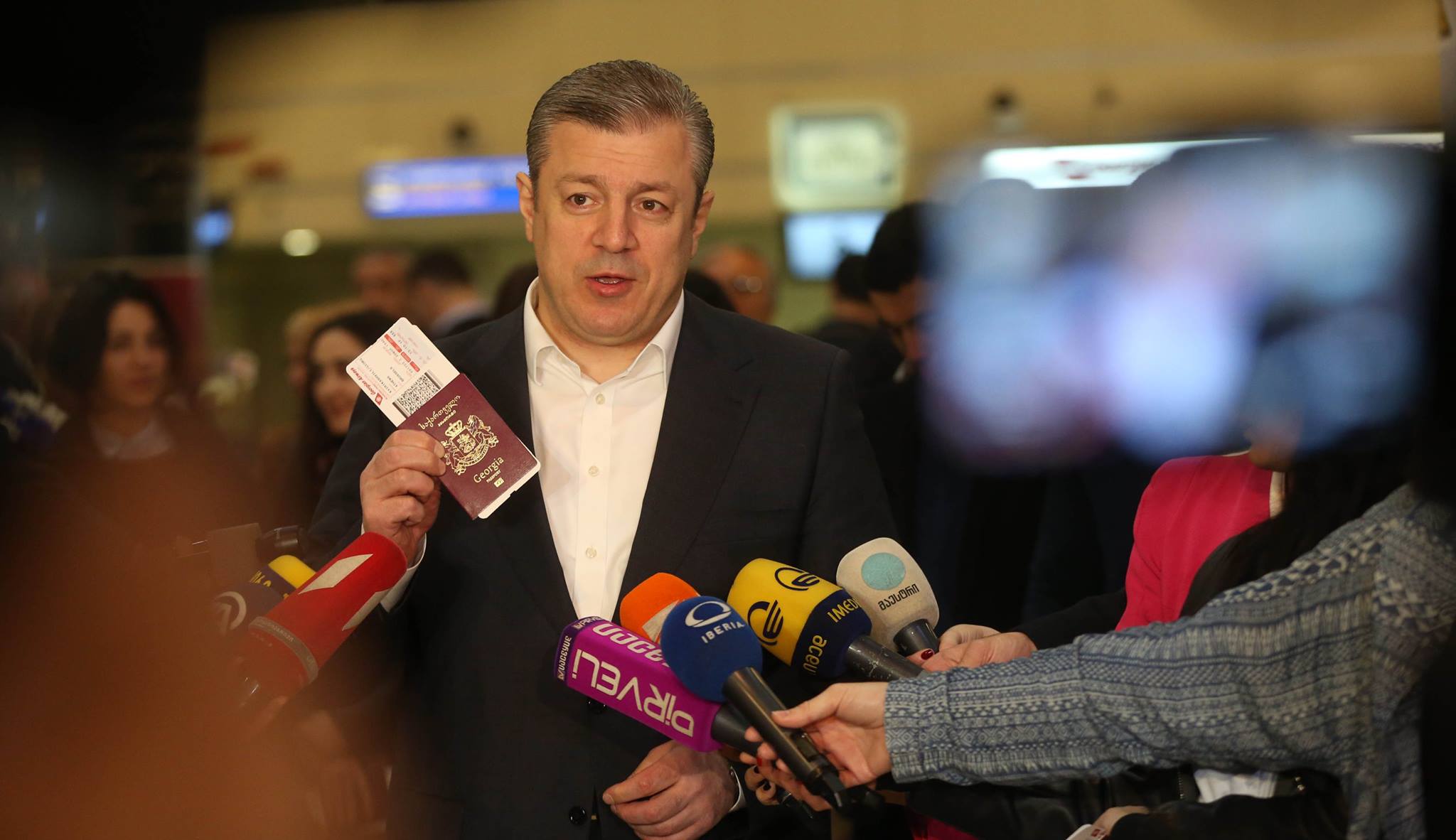 Prime Minister Giorgi Kvirikashvili was one of the first to use the visa-free regime, March 28, 2017. Photo: Government Administration
Prime Minister Giorgi Kvirikashvili, along with cabinet ministers, MPs and a group of students, travelled to Athens on March 28 to celebrate the launch of the visa-free travel to the European Union.

In Athens, the Georgian delegation members are to participate in the academic conference "Georgia from Europe to Europe." The delegation will head to Brussels later on the same day.
"Today is a historic day – Georgian citizens will finally be able to travel visa-free to the European Union/Schengen countries," Kvirikashvili told the journalists before departure.

"This is an enormous achievement and a great opportunity for Georgian citizens to better acquaint with the European Union, to better learn the values that the European Union stands on," Kvirikashvili added.

"Today, together with students, we are travelling to the oldest cultural capital of Europe – Athens ... Midday, we will travel to the political capital of Europe – Brussels to celebrate this big achievement," Kvirikashvili noted.

Beginning from March 28, Georgian citizens with a biometric passport travelling to the Schengen area for up to 90 days for business, tourist or family purposes no longer require a visa.

The EU-Georgia Visa Liberalization Dialogue was launched in June 2012 and was completed on March 1, 2017 when the Council of the European Union and the European Parliament signed the regulation on visa liberalization for Georgians.

The visa waivers apply to the Schengen area, which includes 22 EU member states (all except Ireland, the UK, Croatia, Cyprus, Romania and Bulgaria), plus Iceland, Liechtenstein, Norway and Switzerland.