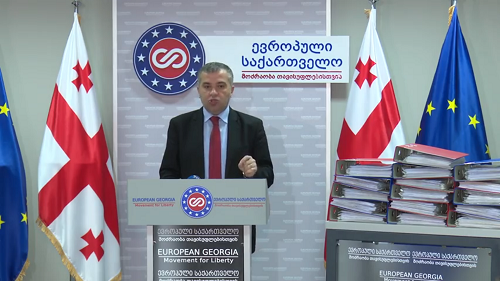 Davit Bakradze, June 20, 2017. Photo: facebook.com/europeangeorgia.ge
The Movement for Liberty - European Georgia, which has the largest opposition faction in the Parliament, reiterated its calls for setting a plebiscite on abolishing the direct presidential election, as well as on the introduction of the new electoral system, according to which, the votes of the parties that fail to cross the threshold would go to the winner.

David Bakradze, one of the leaders the European Georgia, announced at the press briefing on June 20, that the party collected more than 150 000 signatures for that purpose "in a short period of time," which "confirms once again that the people would like to have its voice heard and to have a constitution and a political system, which they will decide [themselves]."

"There is no consensus over the proposed constitutional amendments neither among political parties nor within the ruling majority," Bakradze said, adding that the ruling party entered a political deadlock since "there is no consensus and no prospect for agreement among political actors."

The only solution out of the deadlock, Bakradze went on, "is to ask the people to express their position and obey the public opinion."

Later on June 20, Elene Khoshtaria, European Georgia's mayoral candidate in Tbilisi, submitted the signatures to the Government administration.

The Movement for Liberty - European Georgia addressed the Prime Minister previously as well, but since the latter left the appeal unanswered, the party started collecting the signatures.

According to the Organic Law of Georgia on Referendums, "a plebiscite is nationwide polling by ballot to find out the opinion of the voters of Georgia or part thereof with respect to particularly important national issues." It is appointed by the Prime Minister and its results are of recommendatory character.