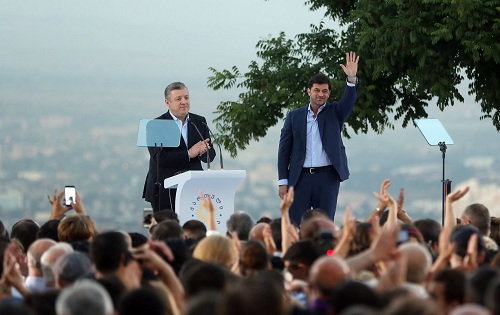 Giorgi Kvirikashvili and Kakha Kaladze, July 1, 2017. Photo: facebook.com/KvirikashviliOfficial/
Kakha Kaladze, the Energy Minister and the Deputy Prime Minister of Georgia, will be the mayoral candidate of the ruling Georgian Dream – Democratic Georgia party in Tbilisi for the upcoming municipal elections in October, 2017.

The announcement came at a campaign meeting on July 1 held at Mtatsminda Park, one of the hallmarks of Tbilisi overlooking the capital.

Prime Minister Giorgi Kvirikashvili, who spoke first at the meeting, presented Kaladze's candidacy, saying the former footballer is "one of the [ruling] party's most prominent leaders and an exemplary member of our society."

"Kakhi was always exceptional with his dedication to work: he is an energetic individual who loves our country," PM Kvirikashvili stated, adding that the ruling party candidate would "positively affect" the lives of Tbilisi residents "with his modern and interesting approaches."

In his acceptance speech, Kakha Kaladze stressed the importance of unity and party cohesion ahead of the elections. "In 2012, when [Mikheil Saakashvili's] regime led Georgia into a deadlock and only impunity and violence reigned in the country, our unity and teamwork brought that very huge and important victory," Kaladze noted, calling on the party activists and supporters to "stand united" for winning the upcoming elections as well.

"Very soon we will inform every resident of Tbilisi of the projects and plans that we envision for the future, which will be based entirely on your demands, desires and needs," Kaladze also said, listing social issues, environment, road traffic, car parking and public transportation as his priority areas. Kaladze also promised to regulate "chaotic constructions," carry out "rehabilitation-conservation" of Old Tbilisi and introduce quality control and safety regulations for new constructions.

The ruling party candidate spoke on Tbilisi's "traditions" of religious and ethnic tolerance as well. He also appealed to the young people to get engaged in the process of "planning the life, the style and the outlook of our capital."

Kaladze also touched upon the tenure of Davit Narmania, the incumbent mayor, and said that "a lot of good work has been done" by Narmania, but added that "the society is developing and we need [to do] much more: we have a very good basis and a good starting point for taking decisive steps for right and reasoned development of our city."

Kakha Kaladze, former footballer who won UEFA Champions League with AC Milan twice, joined the then-opposition Georgian Dream-Democratic Georgia in 2011, leading the party list of the Georgian Dream coalition in the 2012 parliamentary polls. Kaladze was elected in the new Parliament after winning a majoritarian race in his native Samtredia constituency in western Georgia. Shortly after the elections, he was appointed the Energy Minister.