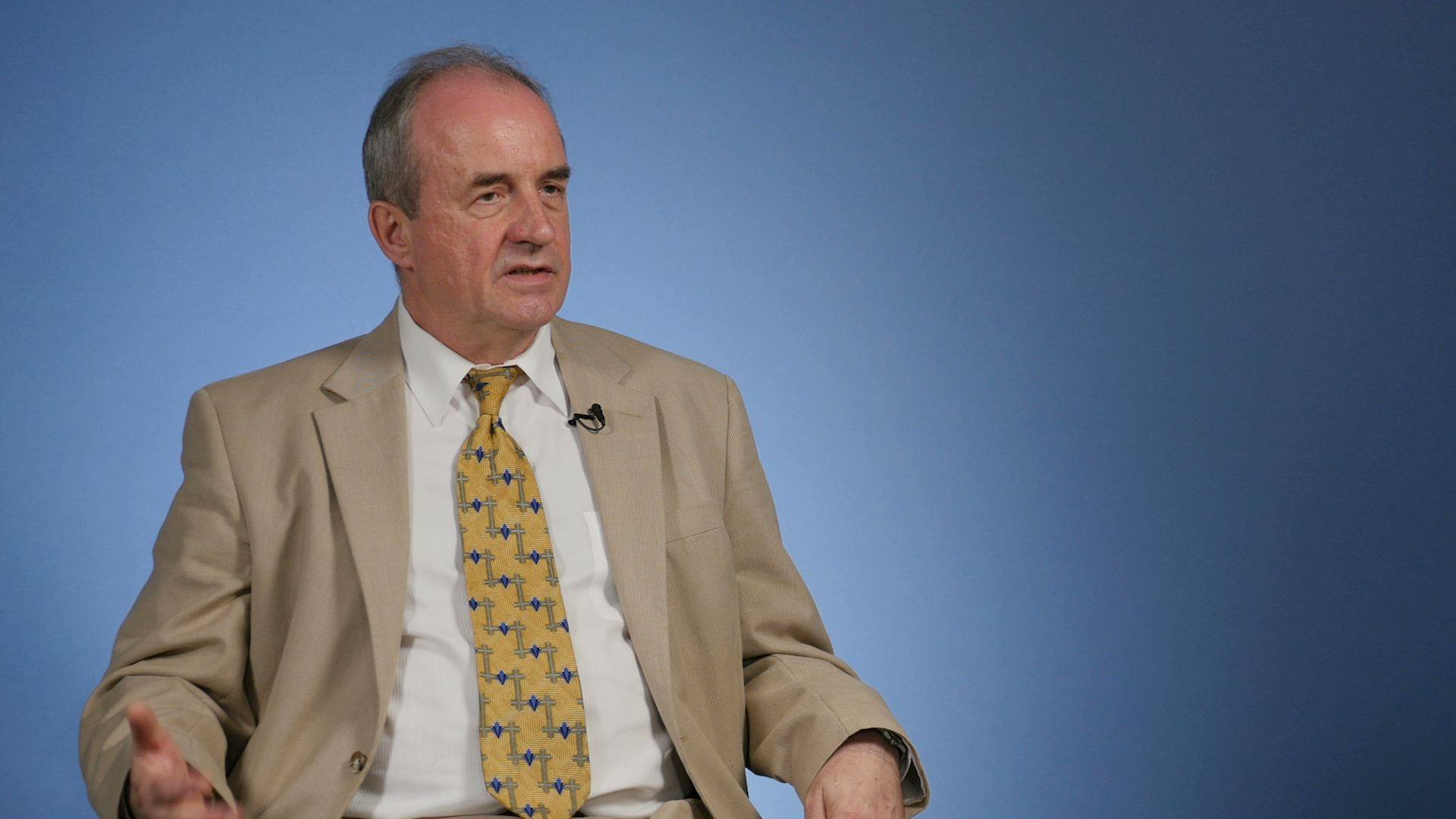 Janusz Bugajski, Senior Fellow at the Center of European Policy Analysis. Photo: VoA
Voice of America's Anna Kalandadze sat down with Janusz Bugajski, a senior fellow at Washington's Center of European Policy Analysis and a long-time commentator of Eurasian affairs to discuss Vice President Pence's visit to Georgia, President Trump's visit to Europe and other relevant topics.

Anna Kalandadze leads VOA's Georgian team in DC and can be followed on Twitter @annavoa or on facebook.

Let's start with Georgia, an area of your keen interest: what message is the U.S. sending to Georgia with Vice President Pence's trip to Tbilisi?

I think it is a very strong message, that Georgia remains an important player in the region, it is important for America, its aspirations to eventually join NATO is still taken seriously in the West even if it can be a long process. It also sends a strong message to Russia, that the U.S. has not distanced itself from Tbilisi and that it is not allowing for the Russian partition of the country. So I think it's important in the case of Georgia and it is important in the case of Ukraine. So I am hopeful that the Pence visit will produce some important statements and even some new initiatives to push Georgia closer to NATO.

How would you assess Georgian developments in the realms of governing, functioning of state institutions, rule of law or media freedoms?

Georgia goes through cycles of accepted legitimate Government and then Government starts doing things, including amending Constitution or pressing the media which creates an opposition to their rule. So I see this as a part of a cycle. But Georgian civic system, Georgian opposition is strong enough to withstand any Government's attempt to create a one party rule. In the longer term, I am optimistic for Georgia although there are some convulsions at times that of course Russia exploits: Russia wants to destabilize the political system in Georgia for it not to qualify to join NATO.

How convinced are Eastern Europeans of a strong U.S. support after President Trump's trip to Europe?

They should be convinced. First: him stating that NATO's Article 5 is important is a huge reassurance. Second-his statement that Russia destabilizes Ukraine and other places sends a very strong message that it will not be taken lightly by the U.S. and NATO. And third - there was a meeting of twelve countries in Warsaw of Central European leaders-three Seas Initiative Summit, where President met with all these leaders before meeting with Putin, so I think it all speaks that assuring Eastern Europeans is a priority for the U.S. Administration.

How would you characterize a current state of transatlantic relations?

It is always in a state of a change. I would like it to be strengthened more, because of the threats that we are facing, particularly from Russia, ISIS or terrorism and other, let's say on-the-horizon threats. So the Trump Administration is trying to let Allies contribute to the common defense priorities through spending and through increasing their military capabilities.

Do you foresee a Russian meddling in the upcoming European or U.S. elections?

Absolutely. Russian soft power is a substitute to the fact that it is militarily and economically weak. They do have a lot of money and cyber capabilities to interfere and interject in neighboring countries, whether through corrupting politicians or stealing information and making up for stories to influence the elections. So I think Russia's going to continue on these escapades internationally. So if they see a success after interfering in our elections, they will interfere in elections elsewhere.

Earlier, Secretary of State Tillerson had expressed disappointment with lack of progress in the Minsk process. What innovative solutions can Kurt Volker bring to the table, do you expect him seeking a more formalized role for the U.S. in the Minsk agreements or offering an alternative to the Minsk process?

I think the choice of Kurt Volker, Special Envoy for Ukraine is extremely important. He is a very experienced person - knows Ukraine, knows Russia very well. I think he will make a decision of where U.S. fits in the process, America has to be more involved, it is not a signatory to the Minsk 2, it has been sidelined, I would say by Russia and by Europeans. Now it needs to be upfront and center of the process. It may take an alternative format to solve this question. But ultimately Russians have to move out of Donbass and allow this region to reintegrate back into Ukraine. Same for Crimea in the future.

In your 2016 work "Black Sea Imperatives" you wrote: 'Control over the Black Sea lies at the core of revisionist ambitions to restore Russia's international power'. Currently, Russia is building up its military presence in Crimea - how will this impact the regional security and the chances for Ukraine to return the peninsula?

Russia's control and militarization of Crimea clearly serves Russia's interests throughout the Black sea region, it turns Black sea into a more of a Russian lake, like in the Soviet times. So I think its imperative to keep pushing back on Russia's militarization of the peninsula and keep pushing Russia out of Crimea because if Crimea remains under Moscow's control, it will destabilize the entire region.

The material was prepared for Civil.ge by the Voice of America. In order to license this and other content free of charge, please contact Adam Gartner.