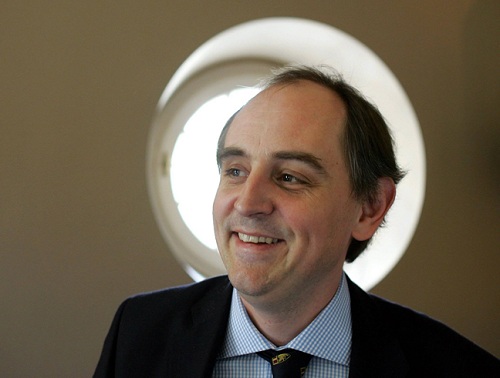 Edward Lucas. Photo: Robert Kowalewski/Agencja Gazeta
Civil.ge spoke about Russia, Georgia and the regional security issues to Edward Lucas, a Senior Vice President at the Center for European Policy Analysis (CEPA) and a Senior Editor at the leading London-based global newsweekly, The Economist.

In the aftermath of the Putin-Trump meeting, and six months after the new U.S. President's inauguration, the Russia policy of the Trump administration still remains far from clear for many observers. How optimistic are you regarding the question of whether the U.S. under Trump will actively counter Moscow's policies – whether towards Russia's neighbors or in the Middle East?

I am less pessimistic than I was in terms of a deliberate grand bargain; I think the hallmark of the Trump administration is paralysis, inconsistency, improvisation. I do not think big bad things are going to happen, because I do not think there are people there that are making these big bad planned things happen. But I am still very worried that if there is a crisis he will mishandle it; and secondly that there is a lack of leadership that is creating a vacuum, and in that vacuum other people move in. So we see China moving in in the East Asia, Germany is moving in in Europe, which is good. But we have got used to rather consistent American leadership, and now we do not have it anymore.

Russia is presently transferring considerable components of its military forces to new permanent bases on the border with Ukraine. What do you think is the purpose of this effort?

It is clearly to intimidate Ukraine. I think that Russia, all over the place, is testing Western resolve. We see it on the demarcation line, the so-called border between South Ossetia and the rest of Georgia, we see it in Ukraine, we see it in the Baltic states. Russians are testing Western resolve to see what they can get away with and to create new precedents and to create a kind of new normal. It is possible Russia is planning a dramatic military escalation either in Ukraine or somewhere else. The signs are worrying, but it could also be just intimidation.

Presently in Georgia we see the activation of the Russian-backed xenophobic groups, with all the accompanying propaganda effort, which is similar to the recent Russian activities in the Western countries. Why do you think Moscow under Putin has made a stake on this particular ideological current for its foreign strategy purposes?

It is an excellent question, and the answer is because it works. We see all over the place the Kremlin courting all sorts of civil society groups, whether it is mixed-martial-arts clubs, vigilantes, biker gangs, paintballers, there is a whole range of activities which attracts often not very well educated, slightly alienated young men, and this is just one side. We also see the anti-Western messages being used in all sorts of countries. And the Kremlin's main means of operations are very opportunistic. So if it works they do it, if it does not they try something else. The anti-Western, xenophobic, anti-Muslim, anti-migrant message resonates with all sorts of different social groups all over Europe and indeed in America.

Do you think the Western states and the European Union are responding adequately to Russia's disinformation and propaganda efforts?

I think things are getting better, we now have a majority of member states who now think that there is something wrong. In countries like Germany, Denmark, Sweden, Finland, which ten years ago really did not believe in such thing as information warfare or that Russia could be waging it successfully against them, now there are serious efforts on the way – based on security intelligence services, but also among journalists and academia, civil society – people now see that there is a problem.

Is it adequate? Not yet, I would say it still needs more. I think there is still a group of countries—Spain, Portugal, Italy, Greece and Cyprus—which absolutely do not see the problem, but they are in a minority in the European Union. And then there is the question of the European institutions. I think that the European External Action Service is very underfunded, I think there is lack of enthusiasm, perhaps, in some of the high command in the EEAS that is not as keen on this as it should be, and I think that the United States should be putting some pressure on the European institutions to take this more seriously.

Are you concerned that Russia might successfully destabilize the Western Balkans, for instance in Bosnia, with serious repercussions for the European Union and the West in general?

Yes, absolutely. We have become complacent about the Western Balkans, and we have seen some very serious Russian intervention in Republika Srpska in Bosnia, in Macedonia recently, and the attempted coup in Montenegro, and very substantial activities within Serbia. Also in the energy sector in Croatia and other countries. So there is a lot going on, and we just do not react. And it is one of the problems of the lack of American leadership. This is fundamentally a European problem, and Europe has not dealt with it very well and the Americans in the past have always been able to take the lead, and I remember Joe Biden flying all the way to Bosnia and back just for one meeting few years ago, just because he realized a vice-presidential intervention would make a difference. And now we miss that, and that has played very much to Russia's benefit. What they will do with that opportunity I do not know, but they are clearly making mischief for the moment.

What about the protest movement that is now resurging within Russia? Do you have high expectations for it, or in your opinion at this stage it cannot present the regime with a serious challenge?

I think all predictions about politics in Russia are wrong basically, and mine are even more wrong than anybody else's, so I will be very cautious about saying anything definitive. My feeling is that the Moscow middle class has basically rambled the regime, they understand that this is basically about stealing and all this talk of patriotism is nonsense. And they are very demoralized, disillusioned and fragmented, they do not have a real leadership. So what we call the Russian opposition is not really an opposition, because that would take opposing the regime. It is just a few brave people, and a few opportunistic people, and a few extremist people, and people who sometimes go to demonstrations to support them.

So if we are going to see a challenge to the regime, it has got to come from somewhere else, it has got to come from places outside Moscow and outside the middle classes. So I am potentially hopeful that we will see mainly the truckers, the lorry drivers, being very angry about corruption and bad infrastructure, which is the hallmark of this regime, maybe they will do something that would work. Maybe some regional leader will be able to crystallize the dissatisfaction that many Russians feel about the Kremlin. And if so, that will be interesting, and it may even be positive, and of course it may not be, but after 30 years observing Russia I am not confident about my predictions.