Georgia is preparing for its municipal elections; in October 2017, 59 municipalities and five self-governing cities, including Tbilisi, will elect their Mayors and Sakrebulos (City Councils).

Three political parties and an initiative group have already named their mayoral candidates in the country's capital, which is home to one third of Georgia's electoral population.

Tbilisi voters will have to make their choice from the candidates of the Georgian Dream – Democratic Georgia, the United National Movement, the Movement for Liberty - European Georgia and an independent initiative group.

The election campaign will officially start in late August, 60 days before the Election Day, but some mayoral candidates have already started campaigning.

Elene Khoshtaria, Movement for Liberty - European Georgia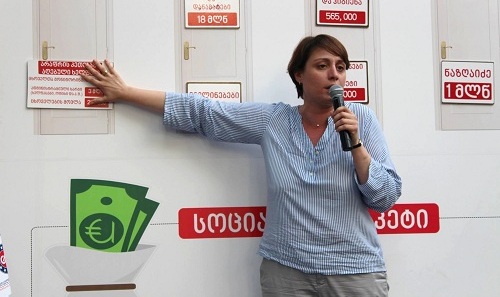 Elene Khoshtaria at her campaign event. Photo: www.facebook.com/tbilisimayor/
The Movement for Liberty - European Georgia, which split from the United National Movement in January 2017, was the first political party to name its mayoral candidate.

MP Elene Khoshtaria, who served as the first Deputy Minister for European and Euro-Atlantic Integration in 2007-2012 and was among top candidates on the United National Movement's party list during the 2016 parliamentary elections, announced about her plans to run in the Tbilisi mayor's elections during the European Georgia party congress on May 27.

Khoshtaria held a presentation of her electoral program on July 14, which entails social benefits increases for vulnerable citizens, as well as jobs creation and various infrastructural projects in the capital, including the railway route project bypassing the city.

Elene Khoshtaria has already held several campaign meetings in various districts of Tbilisi, where she presented her electoral program and European Georgia's majoritarian MP candidates to Tbilisi's 50-member Sakrebulo.

Khoshtaria tries to attract voters through active engagement on social media, including through participation in video experiments highlighting Tbilisi's problems and her solutions to these problems.

Zaal Udumashvili, United National Movement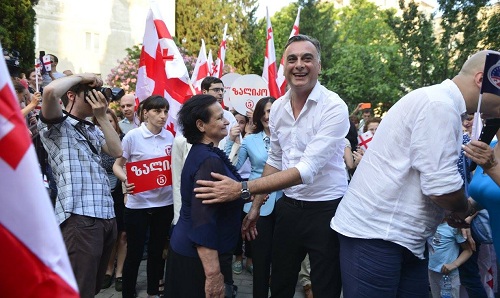 Zaal Udumashvili at his campaign event. Photo: www.facebook.com/zalikoudumashvili/
Zaal Udumashvili, former deputy director of Rustavi 2 TV and anchor of its main news program Kurieri, was named by the opposition United National Movement as its mayoral candidate on June 26.

Zaal Udumashvili, who brings 25-year experience in media, noted at his presentation that he would be a candidate of "angry Tbilisites."

In his campaign, Udumashvili focuses on problems persisting in the capital – socially vulnerable families, poor infrastructure, illegal constructions, traffic congestion and ecology.

Udumashvili is actively campaigning in various districts of Tbilisi, presenting UNM's MP candidates to the Tbilisi Sakrebulo.

In his televised interview with Rustavi 2 TV, ex-President Mikheil Saakashvili endorsed Udumashvili's candidacy as an "educated and cultured" individual with UNM's "huge institutional experience" behind him.

Kakha Kaladze, Georgian Dream - Democratic Georgia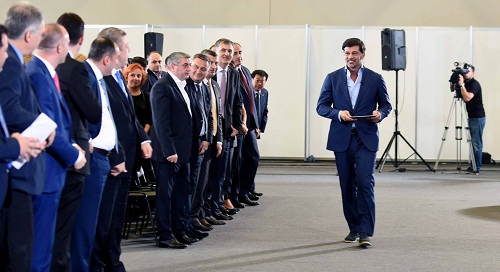 Kakha Kaladze at the presentation of his work as the Energy Minister. Photo: www.facebook.com/kakhakaladzeofficial/

The ruling party named its mayoral candidate on July 1. Former Deputy Prime Minister and Energy Minister, Kakha Kaladze, who joined the Georgian Dream party after ending his 20-year football career, will run in the mayoral elections.

During the 2012 parliamentary elections Kaladze topped Georgian Dream's party list and entered the Parliament after winning the Samtredia single-mandate constituency. But shortly after the elections, he moved to the Government to serve as the Energy Minister.

The former footballer is trying to capitalize on his experience in the executive branch, focusing on the government-initiated economic and energy projects. Speaking at his presentation on July 1, Kaladze listed social issues, environmental protection, road traffic, parking and public transport among his priorities.

Kakha Kaladze has not yet launched active campaigning; he however, according to some media reports, met with the employees of municipal authorities and kindergarten teachers, earning heavy criticism from other mayoral candidates for his alleged use of administrative resources.

Aleko Elisashvili, Independent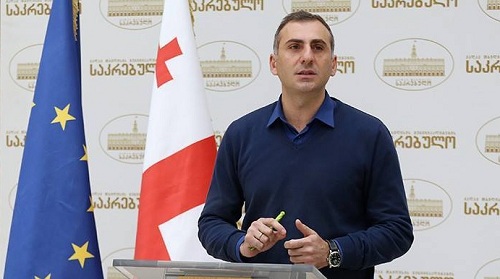 Aleko Elisashvili at Tbilisi Sakrebulo. Photo: www.facebook.com/AlexanderElisashvili/
Aleksandre Elisashvili, member of the Tbilisi Sakrebulo from one of Saburtalo's single-mandate constituencies in central Tbilisi, is the only independent mayoral candidate to be nominated for the position.

Aleksandre Elisashvili, who chaired the presidential pardon commission from November 2013 to April 2014, previously served as a journalist for various TV channels and radio stations. In 2014, he was elected as an independent member of Tbilisi legislature.

During his presentation on July 11, Elisashvili emphasized that he does not fall under the influence of any of the political parties or large businesses and pledged that if elected, he would be accountable only to the people.

Elisashvili also focused on his experience in confronting the previous and the incumbent ruling parties, the United National Movement and the Georgian Dream - Democratic Georgia, respectively.

"I have an experience in defeating the government. Many people have forgotten that three years ago my supporters and I jointly defeated the Georgian Dream and the United National Movement. So, I know how to win a victory together with the people," Elisashvili told his supporters.

Municipal elections will tentatively be held at the end of the third week of October, 2017.