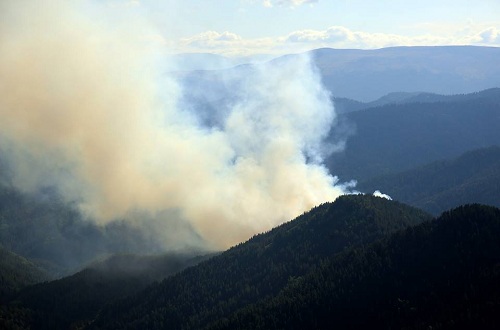 Abastumani forest fire, August 29, 2017. Photo: Ministry of Internal Affairs
Over one thousand firefighters, emergency workers and volunteers continue efforts to contain forest fire in Adigeni Municipality, which started on August 29 near the town of Abastumani in southern Georgia and destroyed reportedly around 5-7 hectares of woodland.

According to the Ministry of Internal Affairs, efforts to bring the fire under control continued throughout the night. A five-kilometer road was cut through the forest to enable the firefighters reach the fire sites.

A Border Police helicopter resumed dumping waters onto the affected areas early morning on August 30. The field staff also reported that firefighting aircrafts from Ukraine (one airplane), Azerbaijan (one helicopter), Turkey (two helicopters and one plane) and Iran (two helicopters) would join the operation as well.

An emergency management field staff is working in the area under the leadership of Interior Minister Giorgi Mghebrishvili.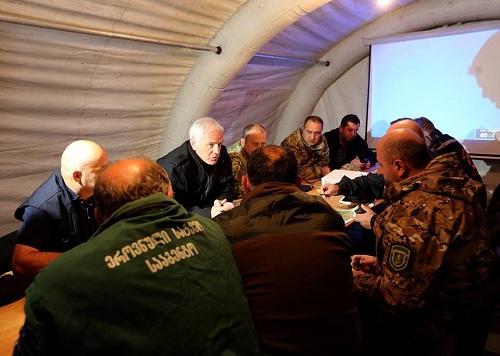 Emergency management staff, August 30, 2017. Photo: Ministry of Internal Affairs

Over 20 fires occurred in various regions of Georgia this August, according to media reports. Borjomi and Gori wildfires, the two largest fires, were successfully contained on August 26 and August 22, respectively. To coordinate the forest fire response efforts in the two areas, President Giorgi Margvelashvili had to issue a decree authorizing the use of armed forces.