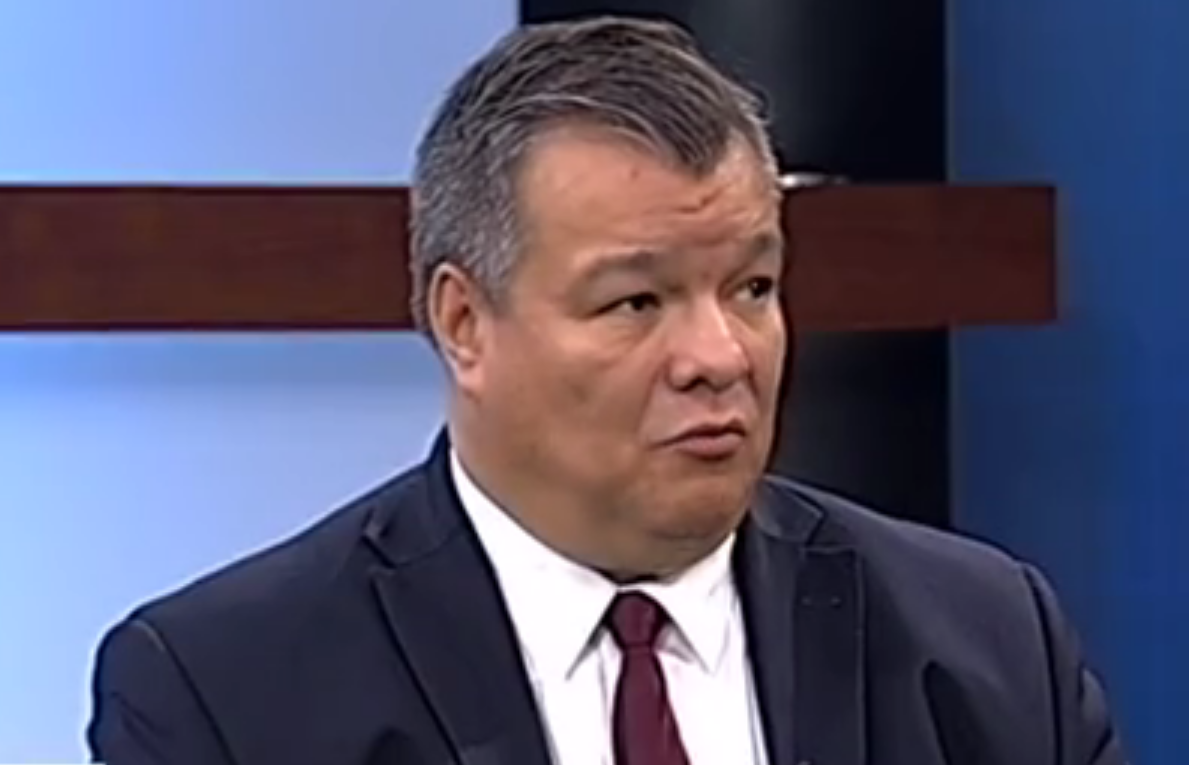 Luis Navarro, former NDI director in Georgia, 2017. Photo: VoA screenshot
Civil.ge spoke about Georgia's internal and external politics to Luis Navarro, former director of the National Democratic Institute in Georgia (2009-2014) and contributor to Foreign Policy Research Institute.

Some in Georgia and abroad have suggested that the country has experienced democratic backsliding under the Georgian Dream government. In saying so, they point out at the imprisonment of former officials, the Rustavi 2 TV case, the purported abduction of Azerbaijani journalist etc. What is your take on the alleged democratic backsliding in Georgia?

I think that the government has not been consistent in their messaging on these matters and therefore have contributed to the concern that they are not committed, or at least are either not sufficiently vigilant or cognizant, in these serious threats to free speech and freedom of movement. When some GD leaders in Parliament denounce the ECHR ruling, or when the Prime Minister declares it impossible for MIA to be involved in Afgan Mukhtarli's disappearance, and then MIA suspends the heads of border guards and counter-intelligence, pending investigation, either their resolve or competence in achieving further democratic progress can be questioned.

The Georgian Dream government has also been criticized for what some call it – the informal governance – or the behind-the-scene rule of the previous Prime Minister and the ruling party founder Bidzina Ivanishvili. What is your take on his possible involvement in political decision-making?

As public opinion polls have shown, and as Ivanishvili's own comments and those of his former governing partners indicate, Bidzina Ivanishvili is integral to government decision-making. If Saakashvili was the face of UNM in last year's election, Ivanishvili was the same for GD. Ivanishvili's references to the GD government as his "project"; the lack of any transparency regarding his landscape re-defining Panorama development; the lethargy of the government when it comes to responding effectively or consistently to situations such as the forest fires of this past summer; are all indicative of how entwined their interests are, his involvement in them and that effect on their decision-making. It is difficult to be adept at crisis management, when you do not have full authority to engage in it.

In your opinion, what were the main reasons behind the division of UNM last winter? What was the role of former Georgian President Mikheil Saakashvili in the split and how do you see his political future develop in Ukraine?

Going back to the 2013, when Saakashvili's public messaging eclipsed the greater personal popularity of David Bakradze during the latter's presidential campaign and again when Saakashvili's rantings, rather than GD's governance, defined UNM in the 2016 parliamentary elections, Saakashvili called the question of whether or not UNM was a political party greater than himself.

While I think there were also internal disagreements about the motivations and outcomes behind party slating, resource allocation and the approach to GD, as evidenced by the split over the second round elections, the fundamental question was about Misha's role as being synonymous with UNM, even as his post-elections focus has been on serving another country.

The Movement for Liberty – European Georgia answered part of that question, "it must be", according to a critical mass of former UNM elected leaders and party officials. However, the odds against them are steep. UNM exceeds them in name branding among opposition-minded voters. European Georgia's leadership, like Saakashvili, has not demonstrated to an understandably skeptical public how they are fundamentally different from their time in his government. And, like Saakashvili, they seem intent on promoting better known but limited in popular potential faces, rather than investing all behind new leaders like their Tbilisi mayoral candidate, Elene Khoshtaria.

Even with his much-publicized return to Ukraine, next to Julia Tymoshenko, it is difficult to ascertain whether or not Misha can lead a new party into Ukraine's Parliament, let alone develop enough popularity to lead it into power. He was an enthusiastic advocate of the current government, served in it and now is just as enthusiastically against it. All that seems to have changed is what his ambitions require at this time.

It appears at the moment that the opposition has been seriously weakened by the split of the United National Movement. Do you think the UNM split has increased the chances of GDDG staying in power for the next round(s) of parliamentary elections? In this light, what is your expectation regarding the upcoming municipal election in October?

In the short term it is difficult to see much opportunity for electoral opposition success against GD. While UNM was smart to recruit the well-known former Rustavi-2 anchorman, Zaal Udumashvili, as a new to politics but familiar opposition political messenger; Aleko Elisashvili also poses a potentially interesting challenge. On the one hand, he led public demonstrations against Ivanishvili's Panorama and seems like a real contender for the Tbilisi mayoral runoff as an independent candidate. On the other hand, he served the government as chair of the presidential pardon commission, when President Giorgi Margvelashvili was still in Ivanishvili's good graces. The only other independent to win office in Tbilisi, former Saakashvili foreign minister and parliament majoritarian Salome Zurabishvili, was elected with express support from the GD in 2016. So I think it is possible that if Elisashvili were to enter the runoff, the result would be good for him but possibly undercut the future viability of opposition parties while rewarding the role of independent candidacies. In the short run, that would only further benefit GD without any clear indication of the long term effect.

I think if GD does not exceed its 2016 performance, UNM does exceed its previous electoral performance, European Georgian does exceed the threshold and either Udumashvili or Elisashvili force a run-off in Tbilisi, then while GD will still control government at every level and in every jurisdiction, the opposition writ large can claim progress. Frankly, that would all be favorable to the GD government's larger goal of reassuring Western governments of a Georgian pluralistic democracy.

Russia has been using both hard and soft instruments to pressure Georgia, be it the ongoing borderization along Abkhazia and South Ossetia and deepening of its military grip on the two territories or the increasing propaganda efforts in the country. At the same time, we hear the opposition's accusations that the government is not doing enough to counter the Russian threat. In your opinion, is the government doing enough to address the Russia issue? How does the GDDG's Russia policy differ from the previous government?

The GD government has enjoyed significant international success with both the West and Russia. The lifting of the Russian embargo, required by Russia's admission to the WTO in 2012, the EU Association Agreement at the end of the Ivanishvili/Saakashvili era of "co-habitation" in 2013, the EU visa free liberalization regime earlier this year and the dramatic increase in Russian/Eurasian Union tourism, are among the best examples.

However, Ivanishvili's repeated indifference to Russia's "creeping occupation" along the S. Ossetia administrative boundary lines; the Speaker of the Parliament's acknowledgement that a same sex ban in the Constitution is in direct response to Russian propaganda; the government's muted responses to the Ukraine conflict and their dissembling over their proactive solicitation of Russia's help in fighting forest fires; all reflect the conflicted nature of their engagement with Russia. This provides ample fodder for their critics.

Unfortunately, GD today, like their UNM predecessors at the height of their power (2008-2012), disdain their pro-Western opponents, expressing the impossibility of working constructively with them and questioning their capacity for being in power. Also, similarly, they express confidence that only through their own future division will a suitable opposition arise. While UNM would accuse everyone opposed to them of being pro-Russian, GD/Ivanishvili leverage pro-Russian narratives and resources against their opponents. The Alliance of Patriots and Asavali-Dasavali are only the most obvious examples of Ivanishvili promoted entities which specifically and relentlessly target his pro-Western opponents.