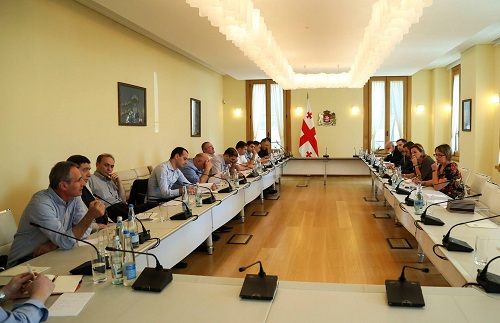 Meeting in the presidential administration, September 14, 2017. Photo: president.gov.ge

President, parliamentary opposition groups and non-parliamentary parties will publish their version of the draft constitution next week and will present it to the ruling Georgian Dream – Democratic Georgia party, as well as to the Venice Commission, Council of Europe's (CoE) advisory body for legal affairs.

The announcement was made on September 14 by Giorgi Abashishvili, head of President Giorgi Margvelashvili's administration, following the meeting of the opposition parties and the representatives of the presidential administration, few days ahead of the scheduled parliamentary vote on the ruling party-endorsed version of the draft constitution.

"I would like to remind everyone, including the government, that consensus is possible and today's meeting was a clear demonstration of that. It is important to use the last chance now and save the country's democratic image," Abashishvili noted.

Representatives of parliamentary opposition commented on the matter as well, stressing on the necessity of finding broader consensus on the constitution.

"We will put the agreed version [of the draft constitution] for public scrutiny and it will [also] be presented to the ruling party, which is being reluctant and is trying to tailor the constitution to itself," said Nika Rurua of the United National Movement, adding that the parties have agreed on "practically every fundamental issue," but have "left the GDDG-proposed draft intact as much as possible, so that we reach consensus."

"We are not speaking about reaching consensus among individual political actors. All political actors should take into account the challenges and problems that the Georgian state is facing and the demands that the society has today. Number one task is, once and for all, to secure in the constitution the possibility of changing the government through peaceful means of elections," said Irakli Abesadze of the European Georgia.

On September 11, President Giorgi Margvelashvili invited the opposition parties to revise those provisions of the Georgian Dream-proposed draft constitution, which the ruling party and opposition failed to reach consensus on, slightly over a week after the ruling Georgian Dream announced further talks with the opposition "senseless," followed by the Venice Commission's statement that "the repeated failure of the Georgian parties to reach consensus on the revised Constitution through negotiations is disappointing."

The Parliament of Georgia adopted the constitutional amendments with its second reading on June 23. The third and the final hearing will be held in late September, shortly after the Venice Commission submits its preliminary opinion on the revised draft of the constitution.

Opposition parties have been criticizing the ruling party for its "single-handed" changes to the draft constitution, including its decision to backtrack on the opposition-pushed and the Venice Commission-endorsed introduction of the fully proportional electoral system for 2020.