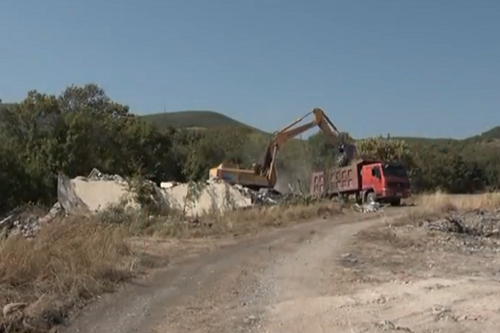 House demolition in village Eredvi, September 15, 2017. Photo: Screebgrab from TV Ir
Georgian officials slammed as "genocide" and "ethnic cleansing" the decision of the Russian-backed authorities in South Ossetia to demolish the houses of ethnic Georgians in village Eredvi, east of Tskhinvali, the region's capital.

A local television station broadcasted on September 15 a short news story showing the ongoing construction removal works in Eredvi, home to approximately 1000 ethnic Georgian residents before the 2008 Russia-Georgia war.

According to the report, the demolition works, conducted under the frames of the Moscow-funded "South Ossetian Social and Economic Development Investment Program," will be over in late October and the vacated lands will be transferred to the occupied region's ministry of agriculture. Overall, 268 homes are to be demolished, 163 of which have already been removed.

Georgian President Giorgi Margvelashvili, Parliamentary Chairman Irakli Kobakhidze and ministers commented the recent developments in Eredvi pointing at the continuation of ethnic cleansing and the Russian occupation, as well as stressing the need for increased involvement of the international community.

In a statement released on September 22, President Margvelashvili said that demolition of homes of displaced residents in village Eredvi aims at "removing the trace of [ethnic] Georgian population from this historic part of Georgia."

"In the occupied territories of Georgia, where ethnic cleansing has been carried out, the occupying force perpetrates another act of vandalism, directed against the territorial integrity of Georgia and fundamental human rights," the President also stated.

"This is a continuation of the policy of ethnic cleansing started in 2008. This action is directed towards the annexation of Georgia's occupied territories. It is a crime against civilians and it should receive a sharp response from the international community," he added.

Parliamentary Chairman Irakli Kobakhidze slammed the move as "a regretful tendency of aggressive policy," also noting that Tbilisi constantly raises the issue of occupied territories with international partners.

In her comments to Imedi TV, Georgian State Minister for Reconciliation Ketevan Tsikhelashvili criticized Russia and the local authorities for hampering return of the displaced persons to their homes. "This is not a construction debris, these are houses of living persons, individuals who have been expelled from their homes and who are unable to return because of the ongoing occupation and the deliberate policy of Russia, and regretfully, also of the de facto authorities, to hamper [their return]," she noted.

Georgian Foreign Minister Mikheil Janelidze, who is visiting New York for the United Nations General Assembly, condemned the demolition works in Eredvi as "a continuation of genocide." "Georgian diplomacy aims at finding a solution to this very difficult problem with the involvement of the international community," he said.