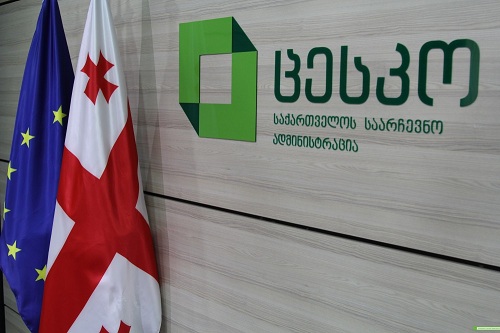 Photo: Central Election Commission of Georgia
Civil.ge continues publishing its weekly election digest, a news compilation covering the political party campaigns, election procedures and other pre-election developments, as well as related political happenings, ahead of the October 21 municipal polls.

The third digest covers the developments of past week (September 18-24).

Race for Tbilisi - candidates continue presentations of their electoral programs:
Kakha Kaladze, the ruling party's Tbilisi mayoral candidate, unveiled two more components of his electoral program. On September 18, he spoke about the transport policy and on September 22 he held a presentation on his environmental policy. If elected, Kaladze plans to spend about GEL 800 million on the development of road infrastructure and transport system in the capital city. Kaladze also pledges Tbilisites to rehabilitate recreational areas and to build new parks in Tbilisi;

Elene Khoshtaria, European Georgia's Tbilisi mayoral candidate, held a presentation of her electoral program. If elected, Khoshtaria promises to increase pensions and social allowances by GEL 50 and GEL 70, respectively. She also vows to create 35 000 new jobs and implement comprehensive transport reform, including through purchasing new municipal buses and developing the system of tramlines and cable cars. Khoshtaria also plans to transfer the railway away from the city center and to create a central park in the vacated area;

Aleko Elisashvili, independent mayoral candidate, continues presentations of his electoral program as well. On September 21, he unveiled his environmental plan. Elisashvili vows to tighten construction norms, as well as to restrict the tree removal procedures. He also plans to increase green spaces and recreational areas four-fold through using the abandoned enterprises and military facilities in the capital city. Elisashvili also focuses on the need of using the recreational potential of the River Mtkvari and its tributaries and offers to develop a 20-year dendrology plan.
Party Presentations - candidate submission deadline expires; ruling party members switch to the Development Movement; GDDG names its party list; independent candidates join efforts:
Deadline for political parties and election blocs to submit to CEC their candidates for mayoral and Sakrebulo elections expired on September 21. 23 parties, 5 election blocs and over 200 initiative groups are registered for the polls. Details on individual candidates and party lists have yet to be published by the election administration;

Following the presentation of the ruling party's 25 majoritarian candidates to the 50-member Tbilisi Sakrebulo, last week, Kakha Kaladze presented GDDG's party list as well. Five women and three incumbent members made it into the list;

Several dozen members of the Georgian Dream, including incumbent Gamgebelis (heads of local municipalities) of two municipalities and Sakrebulo members joined the Development Movement, a political party led by former Parliamentary Chairman Davit Usupashvili. Gamgebelis of Gori and Dmanisi will run on Usupashvili's ticket in the upcoming polls. Commenting on the issue, Khatuna Samnidze, leader of the Republican Party, said Usupashvili's new party "is a pseudo-opposition, satellite party" through which Bidzina Ivanishvili [ex-Prime Minister] tries to strengthen his positions outside the Georgian Dream;

Aleko Elisashvili, independent mayoral candidate in Tbilisi, voiced his support to the candidacy of Joseph Alexander Smith, 32-year-old naturalized Georgian. Smith, who moved to Georgia five years ago from the United Kingdom, was a journalist and a civil activist before entering the electoral race in one of Saburtalo's single mandate constituencies.
Party Campaigns/Rallies - UNM rally outside Cartu Bank; the Alliance of Patriots rally in Batumi:
On September 19, leaders and members of the United National Movement, gathered outside ex-Prime Minister Bidzina Ivanishvili's Cartu Bank under the "You Work - They Steal" slogan and accused the bank of money laundering. Zaal Udumashvili, UNM's Tbilisi mayoral candidate, addressed the protesters. "It is the bank, which is full of money obtained through non-transparent and illegal tenders. It is the bank, which has turned into Bidzina Ivanishvili's instrument for robbery," he said. Maia Datukishvili, member of the Tbilisi Sakrebulo from the party, who also participated in the rally, said that a police officer hit her in the face;

The Alliance of Patriots continues its protest rallies demanding the introduction of a trilateral Georgia-NATO-Russia format of negotiations, as well as the initiation of direct dialogue with the Abkhaz and South Ossetians. A week after the party held a protest march in Tbilisi, it organized another rally in Batumi. Irma Inashvili, one of the leaders of the party and mayoral candidate in Tbilisi, said that 20 party activists continue hunger strike outside the Parliament building in Tbilisi. She added that activists from Batumi would also join the hunger strike.
Election Monitoring and Violations - European Georgian reports on attacks against its candidates; UNM accuses election administration of fulfilling GD's instructions; unidentified persons burst into several polling stations; TI claims a video clip by the Tbilisi City Hall favors the ruling party:
Election Administration - precinct commissions launch work; the Interior Minister issues a special order:
3634 precinct commissions launched work from September 21. Members of the precinct commissions elected commission chairpersons, their deputies and secretaries at their first session. According to CEC, precinct commissions started distributing voter information cards across the country;

Interior Minister Giorgi Mgebrishvili issued a special order to ensure peaceful conduct of the upcoming municipal polls, according to which in order to prevent the violations, as well as to ensure timely and adequate response to them, special police task forces will be formed in each of the regions of Georgia.
For earlier pre-election developments please refer to Weekly Digest No. 2 and No. 1.