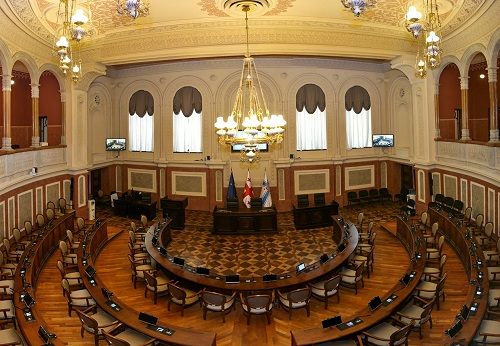 Tbilisi Sakrebulo Chamber. Photo: Tbilisi Sakrebulo
Civil.ge continues publishing its weekly election digest, a news compilation covering the political party campaigns, election procedures and other pre-election developments, as well as related political happenings, ahead of the October 21 municipal polls.

The fourth digest covers the developments of past week (September 25-October 2).

Race for Tbilisi - 14 mayoral candidates registered:

The Central Election Commission completed the candidate registration process. According to the data released on October 2, 14 candidates will run in the Tbilisi mayoral elections:
Elene Khoshtaria, election bloc "Bakradze, Ugulava - European Georgia," election number – 2;
Kakha Kukava, election bloc "Dimitri Lortkipanidze, Kakha Kukava - Democratic Movement Free Georgia," election number – 3;
Zaal Udumashvili, election bloc "United National Movement," election number – 5;
Irma Inashvili, "Davit Tarkhan-Mouravi, Irma Inashvili - Alliance of Patriots of Georgia," election number – 8;
Giorgi Gugava, "Shalva Natelashvili - Labor Party of Georgia," election number – 10;
Davit Shukakidze, "National Democratic Movement," election number – 11;
Giorgi Liluashvili, "Sakartvelo," election number – 17;
Nikoloz Saneblidze, "Traditionalists," election number – 18;
Tengiz Shergelashvili, "Development Movement," election number – 20;
Grigol Jojua, "New Christian-Democrats," election number – 23;
Giorgi Vashadze, election bloc "Giorgi Vashadze - Unity New Georgia," election number – 27;
Lasha Sturua, "Progressive-Democratic Movement," election number – 39;
Kakha Kaladze, "Georgian Dream - Democratic Georgia," election number – 41;
Aleko Elisashvili, independent, election number – 42.
Party Campaigns - Kakha Kaladze and Aleko Elisashvili present social programs; Giorgi Vashadze unveils "the Success Formula;" Kakha Kukava speaks of election priorities:
Party Presentations - GD names its mayoral candidates in Samtskhe-Javakheti and Kvemo Kartli:
Georgian Prime Minister Giorgi Kvirikashvili presented the ruling party's mayoral candidates in Samtskhe-Javakheti and Kvemo Kartli regions. "These people are ready to work 24/7 in order to address your problems; to spare no efforts and to use their experience so that when we meet here after three years, we remain honest before you. This is exactly why we should stand together and support the Georgian Dream," Kvirikashvili told the ruling party supporters in Akhaltsikhe on September 28.
Party Campaigns/Rallies - Ex-PM Bidzina Ivanishvili in focus; UNM, EG rally against possible transfer of lands to Ivanishvili-affiliated companies; GD marks the fifth anniversary of the 2012 parliamentary elections:
Tbilisi Sakrebulo's September 29 sitting was held amid protests of the United National Movement and European Georgia, who denounced the amendments made to the capital's land use plan, which stripped two land plots of their status as recreational areas. Opposition claims that the decision was made to ease the procedures for selling the lands at a symbolic price to two companies involved in billionaire ex-PM Bidzina Ivanishvili's controversial large-scale Panorama Tbilisi project. European Georgia held a rally in the Pushkin Square on October 1 and the United National Movement gathered its supporters outside the Tbilisi City Hall on October 2. In protest to the possible transfer of lands, independent Tbilisi mayoral candidate Aleko Elisashvili decided to quit the Sakrebulo membership;

The presentation of the ruling party's campaign video held at Tbilisi History Museum on October 1 coincided with the 5th anniversary of Georgian Dream's victory in the 2012 parliamentary elections. Before the presentation, Georgian Dream's Tbilisi mayoral candidate, Kakha Kaladze, addressed supporters and congratulated them on the victory against UNM's "bloody regime." "The whole country united around Mr. Bidzina Ivanishvili, against the bloody regime of the previous government," Kaladze noted. "Today we celebrate the day of victory – October 1st, the day when people won a victory in our country. Today we are together again, saying that the victory, as well as the country's perspectives for the future, rests on individual dignity and happiness," Prime Minister Giorgi Kvirikashvili said during the event.
Election Monitoring and Violations - CSOs slam Kaladze for playing a charity match; several persons fined for illegal campaigning; ISFED releases monitoring report:
Local civil society organizations – the International Society for Free Elections and Democracy and the Georgian Young Lawyers Association – slammed Kakha Kaladze, Georgian Dream's mayoral candidate and former footballer, for his participation in a charity football game organized by the Georgian Football Federation and held at Dinamo Arena Tbilisi on September 29. The CSOs expressed doubts that the match, which involved well-known former footballers, would be used for campaigning in favor of the ruling party's candidate. Despite criticism, Kaladze did not change his plans. According to the Georgian Football Federation, the match raised over GEL 300 000. Organizers said that this amount would be spent on restoration of fire-damaged Borjomi forests;

Election administration fined several persons for illegal election campaigning, among them a teacher from one of the public schools in village Skhepi of Shuakhevi Municipality, who posted a photo on her Facebook page featuring school children in a classroom holding Georgian Dream's party flags;

On September 29, the International Society for Free Elections and Democracy (ISFED) released the second interim election monitoring report covering the period from September 5 through September 25. According to the report, the watchdog documented 13 cases of political pressure/threats; two cases of violence; four cases of hampering the election campaign; nine cases of illegal campaigning; three cases of use of administrative resources; one case of alleged voter bribing and four cases of damaging the campaign materials.
Election administration - CEC, watchdogs sign the code of conduct:
On September 27, the Central Election Commission and 31 local election watchdogs, including the International Society for Fair Elections and Democracy, the Transparency International Georgia and the Georgian Young Lawyers Association, signed a code of conduct for fair and transparent conduct of municipal elections.
For earlier pre-election developments please refer to Weekly Digest No. 3, No. 2 and No. 1.