Plenary sitting of the Parliament, October 13, 2017. Photo: facebook.com/parliamentgeo/
The Parliament of Georgia overturned on October 13 with 117 votes the presidential objections on the draft constitution and approved the initial version of the document.

Margvelashvili's objections were presented by President's Parliamentary Secretary Anna Dolidze, who emphasized that the proposed objections were developed in consultation with the ruling and opposition parties. "This historical moment provides a chance to turn the constitution from single-party document into the constitution of the entire political spectrum, of Georgian voters," Dolidze noted, calling on the lawmakers to accept the presidential objections.

The ruling party MPs announced several days before the plenary sitting that they would support Giorgi Margvelashvili's objections only if the President requested the following two changes: allowing the parties to form electoral blocs for the next parliamentary elections in 2020, and scrapping the so called bonus system, which entails the transfer of votes of the parties that fail to cross the threshold entirely to the winner.

The two points are in line with the Georgian Dream - Democratic Georgia's commitments before the Venice Commission, undertaken later in the constitutional reform process. The ruling party was, however, unable to amend the draft constitution (content-related changes can only be introduced during the first and the second readings), and the presidential veto on them would allow GDDG to reflect additional changes in the constitution without initiating a new round of constitutional amendments.

President Margvelashvili met the ruling party request and vetoed the two points, but included three additional changes in his objections, including the transition to the fully proportional electoral system by the next parliamentary elections in 2020 instead of the ruling party-proposed 2024, as well as the proposals revising the norms related to the Constitutional Court and freedom of religion.

The President's decision was slammed by GDDG and the party mobilized its lawmakers to override the veto at today's plenary sitting, earning heavy criticism from the parliamentary opposition.

"It is an anti-people constitution, which promotes the establishment of authoritarian system in Georgia. It is a document, which has no supporters except one party," United National Movement's Roman Gotsiridze said during the plenary debates. "We will boycott the forceful adoption of the constitution and will not participate in the voting," he added.

MP Sergo Ratiani of the European Georgia slammed the ruling party as well. According to Ratiani, GDDG deceived the voters, the political spectrum and the international community when it decided to postpone the introduction of the fully proportional electoral system. "The constitution has been tailored to the interests of only one person and it will be a crises-prone document," he said.

Lawmakers from the European Georgian displayed a banner in the parliament chamber reading "Trampled Down Constitution."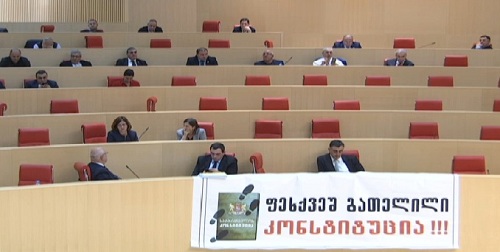 "Trampled Down Constitution." Photo: screengrab
Speaking before the vote, Parliamentary Chairman Irakli Kobakhidze said the constitutional reform process set "an absolutely new constitutional tradition and an absolutely new constitutional culture." "This means that the amendments were introduced not to strengthen the ruling party's political positions, but on the contrary – with these amendments, the ruling party will worsen its positions and this is being done to strengthen democracy in Georgia."

The Parliament of Georgia approved the draft constitution on its third and final reading at its special sitting on September 26 with 117 lawmakers voting in favor and two against it.

On October 9, President Margvelashvili vetoed the constitutional amendments and returned the draft bill to the Parliament together with his objections. Margvelashvili's decision to veto the constitutional amendments followed his consultations with representatives of the ruling and opposition parties, as well as the release of the final opinion by the Venice Commission.