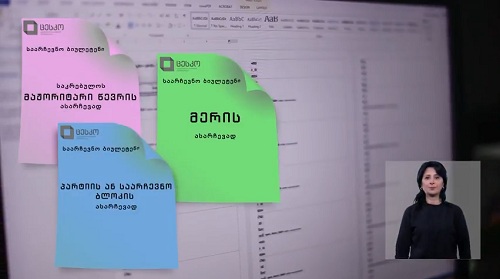 CEC ad showing three different ballots for the municipal polls. Photo: screengrab

On October 21, Georgian citizens will head to polls to elect 2058 members of 64 city councils (Sakrebulo) and 64 municipal mayors.

Civil.ge continues publishing its weekly election digest, a news compilation covering the political party campaigns, election procedures and other pre-election developments, as well as related political happenings, ahead of the October 21 municipal polls.

The sixth digest covers the developments of past week (October 9-15).

Race for Tbilisi - Kaladze continues presenting his priorities; Udumashvili and Elisashvili name municipal department heads; Imedi TV hosts first TV debates; opposition flexes muscles before elections:
Party Presentations - PM Kvirikashvili presents mayoral candidates in Mtskheta-Mtianeti, Tbilisi Sakrebulo chairmanship candidate:
On October 10, Prime Minister Giorgi Kvirikashvili presented the ruling party's mayoral candidates in Mtskheta, Dusheti, Tianeti and Kazbegi Municipalities. Only one woman is among the candidates, Lela Kitesashvili, who will compete for Tianeti Mayor's position against Tamaz Mechiauri, GD's former member and former chairman of the Parliament's finance and budget committee;

PM Kvirikashvili named Giorgi Tkemaladze, incumbent member of the Tbilisi Sakrebulo as the ruling party candidate for Sakrebulo chairmanship. "Giorgi Tkemaladze is a professional and an experienced politician and I am sure that in his capacity as the chairman he will make a significant contribution to the Tbilisi Sakrebulo's successful operation," PM Kvirikashvili said in a statement released on October 15.
Election Monitoring and Violations - UNM, EG candidates withdraw; Development Movement candidate's banner fired at in Dmanisi; non-parliamentary opposition concerned over "discriminatory" election environment; GD leading in terms of donations:
Election Administration - CEC presents interim report; over 9 million ballot papers to be printed:
On October 13, Chairperson of the Central Election Commission, Tamar Zhvania, presented an interim report on the municipal elections to the representatives of local election observer organizations, election subjects and media outlets. According to CEC, Zhvania spoke on the organization's activities in raising the qualification of election administration members, election process organization, civic and voter educational programs, inclusive electoral environment, cooperation with electoral stakeholders, information campaign and other related issues;

The ballot paper printing process was launched on October 14. According to CEC, a total of 9 546 450 ballot papers will be printed. On October 21, each voter will receive three ballot paper at the polling station: one is intended for party-list polls for Sakrebulo; second – for majoritarian Sakrebulo members, and third – for electing the city and municipality mayors.
For earlier pre-election developments please refer to Weekly Digests No. 5, No. 4, No. 3, No. 2 and No. 1.