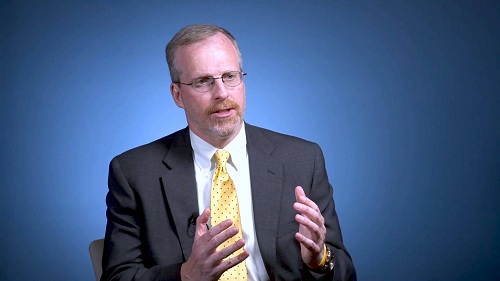 David Kramer. Photo: VoA

Voice of America's Nana Sajaia spoke with David Kramer, Senior Fellow at the Florida International University's Steven J. Green School of International and Public Affairs, on Russia, the United States' Moscow policy and the ways to deal with the Putin regime.

The title of your recent book is "Back to containment, dealing with Putin's regime" – let's start with the containment, how is that different from deterrence?

It is not that different, containment is designed to keep Russia from engaging in certain activities and behavior. We do not want to see Putin feel that he can get away with invading other neighbors. He has already done it to Georgia in 2008, he did it to Ukraine in 2014, and there is presence of Russian forces in the Transnistrian part of Moldova.

It is very important that Putin understands that any further aggression against neighbors is going to be met with a serious reaction from the international community. I think we also have to make it clear that we view Putin and his regime as a threat. Threat to his own people, first and foremost. For anyone who might be bold enough to challenge him, whether running against him such as Alexey Navalny or criticizing and exposing his corruption as Boris Nemtsov and Vladimir Kara-murza have done. Boris has obviously paid the ultimate price for that, and Vladimir suffered poisoning twice.

But then he is obviously a threat to his neighbors, to Georgians, to Ukrainians, and so on. He does not recognize Ukraine's or Georgia's or Moldova's right to associate with organizations they aspire to, whether it is the European Union or NATO.

The third threat is to the rest of us – to the international community, whether it is the Syrians, who are suffering as a result of indiscriminate bombing by Russian planes and missiles, or Europe and the United States with Russian efforts to interfere in our politics. The Putin regime is trying to discredit and undermine the very systems that we represent.

Your argument is that Putin regime poses threat to the United States. That is not how the U.S. foreign policy was designed under the last two administrations – given George W. Bush's strategic partnership, and famous reset button under the Obama administration. Do you see current administration recognizing that Putin poses threat to the United States?

I think we see conflicting messaging and signals coming from the current administration. If you look at the actions, the administration has maintained a tough line. We had Vice President Pence going to Georgia reaffirming U.S. support for Georgia's membership in NATO one day, he went to Estonia to provide reassurance to that county, we also see continuation of the sanctions. So, the actions of the administration have been quite good, but then you look at some of the things that the President has said, where he has undermined overall effort. I think it would be better to align rhetoric with the actions.

When you speak about the containment, who do you think shall lead the containment effort?

It has to be the United States. The United States has to take the lead, and if we do, I think NATO allies will follow, some of them want us to take a stronger position, particularly the NATO states that border Russia.

On the other side of the debate, people will say Russia is too big to ignore, or Russia is too big to exclude from the dialogue. How does the picture - containing Russia vs. engaging Russia - look like?

I actually agree with people who say Russia is too big to ignore, because Russia is throwing its weight around in a very negative, unconstructive manner, we have to take Russia seriously in that respect.

In terms of giving Russia a seat at the table, there is a NATO-Russia council, which has not really done anything, Russia came to the G8 and was expelled from it, Russia came to the World Trade Organization and it is not abiding its rules, Russia has signed number of agreements and treaties and does not live up to them. Look from the Budapest Memorandum to Sarkozy or Minsk agreements. Putin does not live up to them.

Can Russia be a partner for the U.S. in resolving major global issues? Is it possible to find areas of cooperation with Russia?

People had been hoping that North Korea would be such issue and yet recent reports indicate that Russia has been undermining the sanctions that had been imposed by the UN Security Council. People hoped on Afghanistan that we could cooperate and yet Russia has been providing support to the Taliban. In Syria we have completely different objectives. Putin went in to keep Assad from falling; we have been there to support more moderate forces and to deal with the ISIS threat. The vast majority of Russian military targets have not been ISIS targets, they have been forces that we have once trained and supported.

On a range of issues we seem to be moving in different directions, further and further apart from each other.

Long before we heard about Russia's meddling in U.S. elections, you were advocating for tougher actions against RT. And now we are seeing a debate whether RT and Sputnik shall be registered as foreign agents under the Foreign Agents Registration Act. What is your take?

I strongly support the push to have them registered under FARA, I think that is a very good step, which exposes what they are.

I also think that people who work for RT and Sputnik should not be allowed into the State Department or the White House press briefings, these are not reporters, they are here to stir up the trouble and giving them any airtime or any legitimacy is exactly the wrong thing to do. They are the Kremlin propaganda.

They are designed to do two things, one - put forward the Kremlin propaganda and try to boost Russia's image, but perhaps even more importantly and more threateningly they are there to discredit our systems, make us look bad. It is almost trying to bring us down to Putin's level.

We should not respond to propaganda with counter-propaganda. We should do everything we can to make sure we report the news, provide the facts, so that people can make informed decisions on their own.

The material was prepared for Civil.ge by the Voice of America. In order to license this and other content free of charge, please contact Adam Gartner.