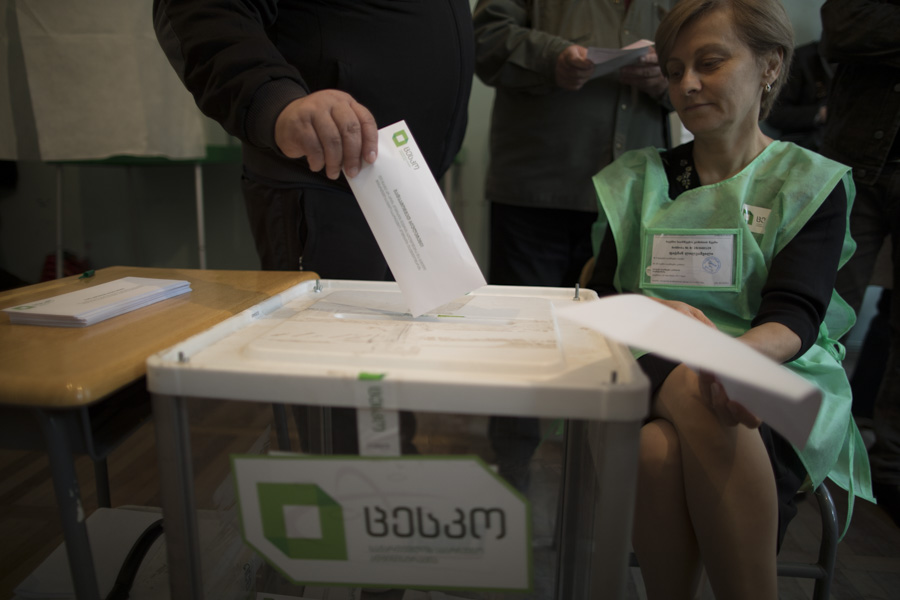 Polling station in Tbilisi, October 21, 2017. Photo: Eana Korbezashvili / Civil.ge
Over 3,600 polling stations opened at 8am on October 21 across the country for municipal elections.

Voters will be electing 2,058 members of 64 city councils (Sakrebulo) and 64 municipal mayors.

There are 3,440,123 voters eligible to cast ballot in the polls. A total of 9 546 450 ballot papers have been printed for them.

Each voter will receive three ballot papers at the polling station: one is intended for party-list polls for Sakrebulo; second – for majoritarian Sakrebulo members, and third – for electing the city and municipality mayors.

22 political parties, 5 election blocs and 201 initiative groups are running in the elections.

369 mayoral candidates have undergone registration for the polls with 13 candidates registered in Tbilisi, home to roughly one-third of the total voter population. The number of registered majoritarian candidates across the country is 4,727 and Sakrebulo candidates through party lists – 12,902.

CEC has registered 20,641 observers from Georgian election monitoring groups and 581 international observers. 4,820 registered journalists will be covering the electoral processes.

CEC said it would launch vote tabulation at 8pm, after polling stations are closed, and final vote tallies would be uploaded to a special website www.results.cec.gov.ge.