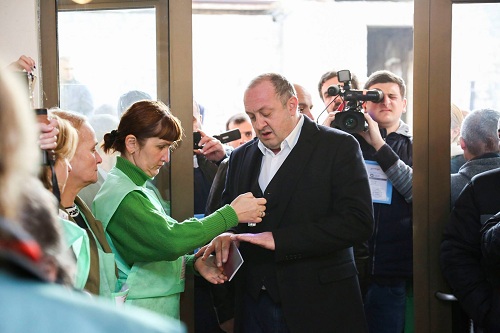 Giorgi Margvelashvili at the polling station, October 21, 2017. Photo: president.gov.ge
After casting ballot at one of Tbilisi's polling station on Saturday morning, President Giorgi Margvelashvili said he has voted for three different electoral subjects.

"I want to call on the voters to be very active," he told journalists outside the polling station. "The fate of a lot of issues will be decided today: most importantly, the municipal elections should address our everyday problems and needs. At these elections, we are making a choice for better self-government, a more engaged self-government, where people will have a much bigger say," he added.

Responding to the journalist's question on his specific choice, President Margvelashvili said he was given three different ballot papers and that he "marked three different subjects in the ballots."

PM Giorgi Kvirikashvili, who chairs the ruling Georgian Dream - Democratic Georgia party, also cast his ballot on Saturday morning in Tbilisi. He told journalists at the polling station that he voted for "even better Tbilisi." "I gave my vote to Tbilisi, where everyone is happy to live, where urban transport is better organized, which has green spaces so that our citizens breathe freely, where the education system is developed, where there is high economic growth, and where entrepreneurs are happy to start their businesses."

Parliamentary Chairman Irakli Kobakhidze spoke to the reporters as well, saying he cast his vote "to the candidate, who can lead our city to an absolutely new level of development."

Kobakhidze also expressed hope that the elections would be held in a calm environment. "If all electoral subjects, all parties treat these elections with responsibility, we will, naturally, avoid any incidents and the elections will pass in an absolutely calm and fair environment. Our party will do its utmost for that," Kobakhidze said.

Over 3,600 polling stations opened at 8am across the country for municipal elections. 3,440,123 voters will be electing 2,058 members of 64 city councils (Sakrebulo) and 64 municipal mayors.