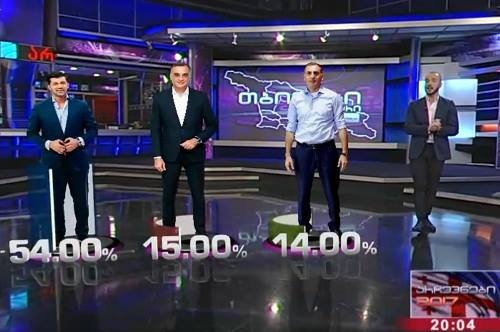 Exit Poll figures of three leading candidates in Tbilisi mayoral elections, October 21, 2017. Photo: screengrab from Rustavi 2 TV
The exit poll, commissioned by Rustavi 2 TV - shows the ruling Georgian Dream - Democratic Georgia candidate, Kakha Kaladze, leading in race for Tbilisi mayoral office in Saturday's municipal elections.

According to the exit poll (as of 18:00), conducted by the Edison Research, Kakha Kaladze garnered 54% of the vote, winning the mayoral office without runoff elections, followed by United National Movement's Tbilisi mayoral candidate Zaal Udumashvili, who has 15%, independent Aleko Elisashvili, who has 14%, and European Georgia's Elene Khoshtaria, who has 7%.

Candidates from the Democratic Movement – Free Georgia and the Alliance of Patriots - Kakha Kukava and Irma Inashvili - obtained 3% each, with New Georgia's Giorgi Vashadze and Labor Party's Giorgi Gugava receiving 2% and 1%, respectively. According to the Rustavi 2 TV, the exit poll has a 2% margin of error.

In party-list contest for Tbilisi City Council, Sakrebulo, the ruling party leads with 58%, followed by the United National Movement with 16%, the European Georgia – 9% and the Alliance of Patriots – 5%.

If these exit polls are confirmed by official results, it means that no other party will be clearing the 4% threshold required to endorse its members to Tbilisi Sakrebulo through party-list, proportional contest.

Half of the seats in the 50-member Tbilisi Sakrebulo are distributed through proportional elections and another half is contested in 25 single-mandate constituencies between majoritarian candidates.

Apart from Tbilisi, Rustavi 2 TV's exit polls also covered the mayoral race in Kutaisi, Georgia's second largest city. There, as of 18:00, GDDG candidate leads with 54%, followed by the UNM candidate – 24%, the European Georgia candidate - 8% and the candidate from the Democratic Movement - Free Georgia with 7%.