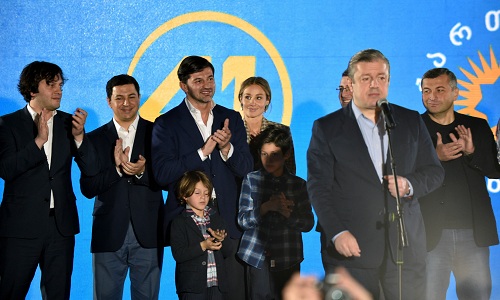 PM Giorgi Kvirikashvili addressing supporters, October 21, 2017. Photo: Georgian Dream
Prime Minister Giorgi Kvirikashvili, who chairs the Georgian Dream - Democratic Georgia party, congratulated supporters on the election victory shortly after the Rustavi 2 TV exit poll put the ruling party in decisive lead over its opponents in Tbilisi and Kutaisi, the country's most populous cities.

"Let me congratulate Kakha Kaladze and the entire Georgian Dream team on this very important victory," PM Kvirikashvili told supporters from the stage, which was erected outside the GDDG party headquarters in Tbilisi.

"I am proud to say that the 2017 municipal elections marked a very significant victory of Georgian democracy and a very important step forward," Giorgi Kvirikashvili noted, adding that despite difficulties, the country's population "has recognized that the country is on the right track."

Kakha Kaladze, the ruling party candidate for Tbilisi mayor, addressed the supporters as well, extending his gratitude to GDDG supporters and activists. "We have walked a very important road, we have held a lot of meetings during this election campaign, and most importantly, the population of our capital pins great hopes on us."

"We all see the problems that concerns the city and understand full well the steps we should take in the future to address these problems," he said, stressing that the problems would be addressed "together" with Tbilisi residents. "I am ready to work; I am ready to serve my city, Tbilisi, and Tbilisites," Kaladze also announced.