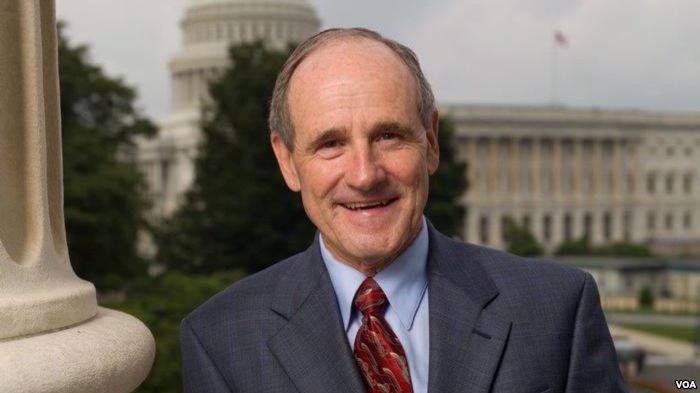 Senator James Risch (R-ID). Photo: VoA

In a conversation with Voice of America's Ia Meurmishvili, Senator James Risch (R-ID) expresses support to Georgia's NATO membership bid, but says the country still has work to strengthen democracy to fulfill membership criteria. He also is in favor of giving Ukraine defensive weapons.
Ia Meurmishvili anchors VOA's weekly show Washington Today and can be followed on Twitter @iameurmishvili or on Facebook.

Where do the Russia-U.S. relations stand at the moment?
There is no doubt that the relations go up and down. We have interests that are similar in some very specific fields, but we also have differences. We have different cultures. Russians view how they should appear on the international stage differently than we do as Americans. One of the ways they are attempting that is overtly and covertly influencing the way governments act - most notably in their elections. This causes difficulties, because we as Americans do not believe that. Each country should act without external influences from other countries.
You are a member of the Senate Intelligence Committee, which is investigating Russia's alleged meddling in the U.S. 2016 presidential elections. What are your expectations of the investigation? Do you think it could cause further deterioration of the relations between the two countries?
On the committee we looked at a lot of different information, interviewed many people. At the end of the day, we will come out with a report. The report is going to clearly say something that has been virtually accepted by everyone. That is that the Russians attempted to take active measures to have some kind of influence on the election. Then of course, there are a number of things that the committee is looking at to see if anyone colluded with them, etc.
On the first point, I think everyone agrees and there has been so much proof of information on it that no one challenges it. I frankly doubt that it is going to deteriorate the relationship. It certainly is not going to warm it, but I suspect that it is probably going to have much influence on where the relationship is right now.
Would the report require any actions from the administration?
I really am not at liberty to talk about where the report is headed to as far as suggesting actions to the administration. We will get to that.
In addition to the alleged meddling in the elections, there is another contentious issue between the U.S. and Russia. Moscow has repeatedly violated and withdrawn from a number of international arms control treaties. How can the U.S. address this aspect of the relations? One of the few agreements Russia has not violated is the new START (Strategic Arms Reduction Treaty) Treaty.
As you recall, I was the one leading the opposition to the new START treaty. But, as you point out, we have a number of other treaties with the Russians. My position has not changed at all - Russians cheat, it is well known that they cheat, they are serial cheaters and as a result of that it requires constant vigilance on our part to see that we are getting something out of this. Certainly, there are benefits to some of the treaties. We always have to weigh benefits versus difficulties. My position has not changed - I am absolutely committed saying that our vigilance and holding their feet to the fire and monitoring their compliances to the treaties is critical.
Is there anything the United States should do about the violations once they are detected and proved?
There are various ways to handle that. I cannot go over every option we have, but certainly once it rises to the level of concern we should sit down with them and tell them that we negotiated these treaties in good faith, we know they are not fulfilling them and ask them what they are going to do about it. We had some success in pulling them back and pushing them towards conformance in some cases.
One of the tools the Kremlin uses to influence public opinion in other countries is its state-funded media. RT and Sputnik are some of the most well-known ones. There is a debate in Washington about whether or not they should be asked to re-register as foreign agents under FARA (Foreign Agent Registration Act). What do you think - should they?
All you need to do is turn on RT for a few minutes and you realize you are not watching the U.S. or U.S.-friendly station. They are owned by the Russian government. They are an agent of the Russian government, and they should register as such. But, that does not really address the question.
Registering, so what? We all know that they are owned by the Russian government and that it is a Russian propaganda machine. This is America, and Americans are used to hearing ideas from all over different places, people are smart and they can make up their own minds as to what the facts are. Yes, I think they should register, but is that going to have any effect on anything? Probably not.
It may send a strong political message to Russia…
To a degree. I doubt it will cause Putin or any others to lose any sleep over it.
We often hear an argument about arms transfer to Ukraine. What is your position on this issue – should the administration give Ukraine defensive weapons?
As you know, we had a vote on the Senate floor on that and I voted for it. I do support defensive weapons going to Ukraine. They have a difficult position not only because they are located at the Russian border, but also due to the percentage of Russians who are citizens of Ukraine. As a result, governance there is very difficult and Russians are not making it any easier. I think the Ukrainians are entitled to defend themselves and I certainly support that.
How do you think the administration is handling the overall European policy?
I think they are doing what needs to be done to maintain and improve relationship with Europe. I think the President got off on a bit of a bad food when he started to criticize the Europeans. Those of us who work on those issues were taken a little bit back to start with. We all sent appropriate messages and actually discussed it face to face with him. He eventually got where we needed to be. In his defense, one thing that has always been a difficult issue for the Europeans and us was them pulling their financial weight. [After President's statements], Europeans have taken another look at that and have stepped up [financially] in some cases to get where they need to be.
Having said all that, NATO is the most successful military entity ever formed on the planet. It is a great benefit to us and a great benefit to the European countries and we need to continue to work together. The United States has always provided substantial leadership in that organization in coordination with European partners. I think we should keep that up.
Do you support NATO's open door policy?
I do. The door is open but before you walk through that door, you have to meet the criteria for admission. I support it 100 percent. However, we also have conditions having to do with strengthening democracy, expenditures and things like that. I am fully on board with that.
Considering it satisfies membership criteria, would you be supportive of Georgia joining NATO?
I would. But as you said the operative words there are "meet the criteria." As you know, we have had a long-time dialogue with Georgia regarding the criteria. Georgia continues to work at it. They are certainly doing better. But Georgia has not met the criteria yet. One day, once they do, the expectations are that they are going to be admitted.
Georgia recently changed its constitution. Much like the previous constitutional changes under the former government, the current process also did not have a full, if any, participation from the opposition. How would you evaluate the process of these changes? What is more beneficial – completing a constitutional process timely or continuing it for a while to seek compromise on both sides?
I can give you my views, but, first of all, please do not take these as preaching to the Georgian people. I have no intention of doing that. As you know, I was there in October 2012, during the parliamentary elections. I was very impressed with how the elections were handled - it was straight and there was no fraud. We were given a complete access.
The country is doing well and is moving forward. But when you start building democracy it does not happen overnight. It takes some maturing process, sometimes through generations. I think the Georgians are moving forward and I want to see that movement continue.
As far as the new constitution is concerned, when you are dealing with democracy, particularly with democracy with some dominant parties, it is really important for them to sit down and have a give-and-take in adopting the kind of government and the kind of rules they want to have going forward. It is not pretty, it does not move like a fine-tuned Swiss watch, but at the end of the day everybody has something to put into it and that is much better.

The material was prepared for Civil.ge by the Voice of America. In order to license this and other content free of charge, please contact Adam Gartner.