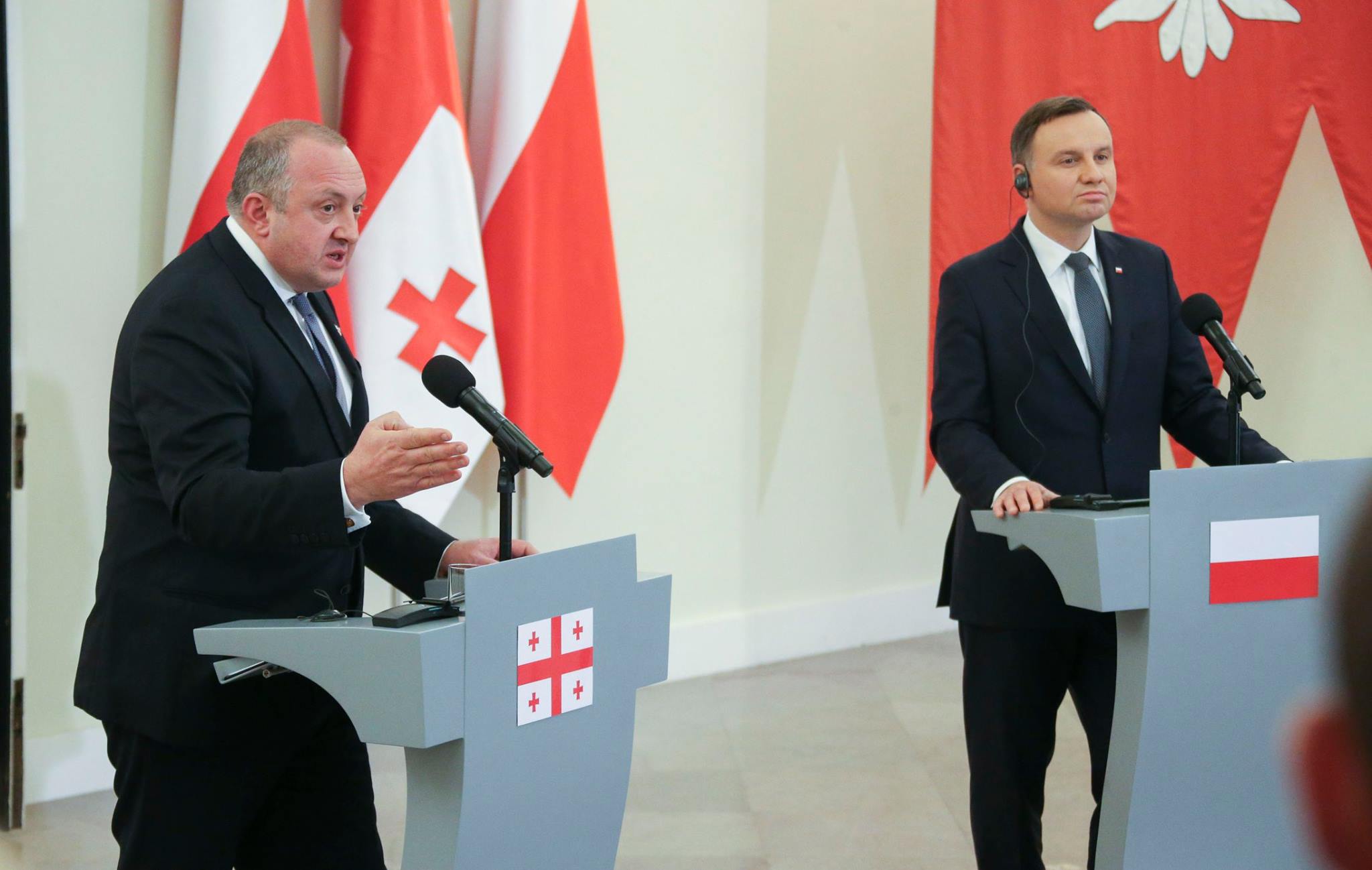 Giorgi Margvelashvili and Andrzej Duda, Warsaw, November 8, 2017. Photo: president.gov.ge
During his visit to Poland on November 7-9, Georgian President Giorgi Margvelashvili met with his Polish counterpart, Andrzej Duda on Wednesday.
According to the Polish President's chief aide Krzysztof Szczerski, the two presidents talked about security cooperation ahead of Poland's membership to the UN Security Council that will start in 2018.
Another item on the agenda was the upcoming Eastern Partnership (EaP) summit in Brussels. Poland has been among the most consistent EU supporters of the EaP.
Szczerski said that Georgia was becoming Poland's "biggest trade partner in the Caucasus," adding that there was room for seeking new opportunities in this regard. Szczerski also said that frequent meetings between the Georgian and Polish presidents (the two have met for the third time in six months) indicate that Poland has returned to maintaining close relations with Caucasus countries.
President Margvelashvili thanked his Polish counterpart for the Polish support to Georgia in the areas of European and Euro-Atlantic integration, territorial integrity, sovereignty, and non-recognition of the Russian occupation. Margvelashvili called Poland a strong partner of Georgia, and "one of the leading states of Central Europe," adding that "partnership between Georgia and Poland largely determines the future of the relationship between central and eastern Europe."
The Georgian President also personally invited Andrzej Duda to Tbilisi for the 100 years celebration of the Georgian declaration of independence from Russia on May 26, 2018.
Other meetings on Margvelashvili's visit schedule include speakers of Poland's lower and upper legislative chambers, Marek Kuchcinski and Stanislaw Karczewski, respectively .
This is a return visit by President Margvelashvili, after the Polish President visited Georgia in late May.