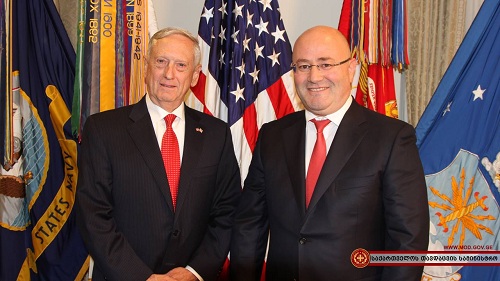 James Mattis and Levan Izoria, November 13, 2017. Photo: MoD Georgia
Georgian Defense Minister Levan Izoria, who is on a four-day official visit to the United States, met with U.S. Defense Secretary James Mattis in Pentagon on November 13.

According to the U.S. Department of Defense, the two defense chiefs discussed regional security issues and the U.S.-Georgia defense partnership, with Mattis commending Izoria for "Georgia's ongoing commitment to defense reforms and to strengthening armed forces capabilities through robust defense spending at 2.2 percent of its gross domestic product," as well as for the country's "steadfast devotion and commitment" to serve alongside U.S. forces in Afghanistan until the mission is complete.

"Your Prime Minister's affirmation to stand with us in Afghanistan until the last U.S. soldier leaves is a powerful and deeply appreciated signal of our nations' friendship and the strategic partnership. We recognize your nation as the largest per capita and non-NATO force contributor to the mission, with 871 troops continuously deployed," said Mattis, adding that in this sense Georgia was "an example for all."

Stressing that "America stands with Georgia," Secretary Mattis said this commitment was underpinned by "our nations' shared values of sovereignty, territorial integrity and respect for the rules-based international order."

In response, Levan Izoria thanked Mattis for the "political and practical support," saying that "the people and the government of Georgia attach huge importance to the strategic partnership with the United States." Izoria also called Georgia "a model of democracy in the region," adding that the country was "always ready to fight alongside the U.S., promoting security and stability around the globe."

The U.S. assistance to the Georgian armed forces was also discussed at the meeting, including the Georgia Defense Readiness Program set to be launched in 2018.

In Washington D.C., Levan Izoria will also meet with National Security Adviser Herbert McMaster and Senator Lindsey Graham (Rep. - South Carolina).