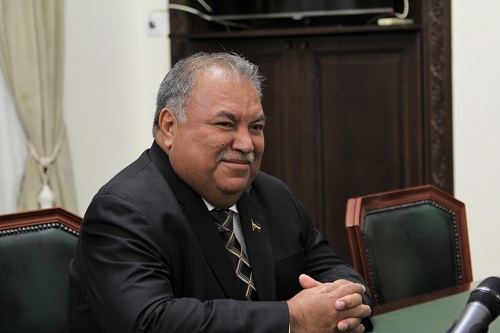 Baron Waqa in Sokhumi, November 12, 2017. Photo: presidentofabkhazia.org
Baron Waqa, President of a tiny Pacific island of Nauru, held meetings with the Russian-backed Sokhumi and Tskhinvali leaders - Raul Khajimba and Anatoly Bibilov, respectively.

Waqa, who serves as the Head of Government and the Head of State of Nauru, travelled to Abkhazia through the Russian Federation on November 12 and met with the region's leader Raul Khajimba, pledging support to the region and promising to lobby for further recognition of Abkhazia's "independence" in the Pacific region.

On November 13, Waqa headed to Moscow, where he met with Anatoly Bibilov who is also visiting the Russian capital. Similarly to his meeting with Raul Khajimba, Waqa promised Nauru's support in "expanding" Tskhinvali's ties in the Pacific region.

"Today, Nauru is the only country in the Pacific region that recognizes the sovereignty of South Ossetia, but I am convinced that in the future the number of such countries will increase. We will be working on that," Waqa was quoted as saying by Bibilov's press service.

On his way to Abkhazia, on November 12, the Nauruan leader met Russian Foreign Minister Sergey Lavrov, with the two "expressing satisfaction" over the state of their bilateral relations.

Nauru, the world's smallest independent nation, recognized Abkhazia and South Ossetia in 2009. Russia, Venezuela and Nicaragua are the three other nations that also recognize the two regions' independence from Georgia.