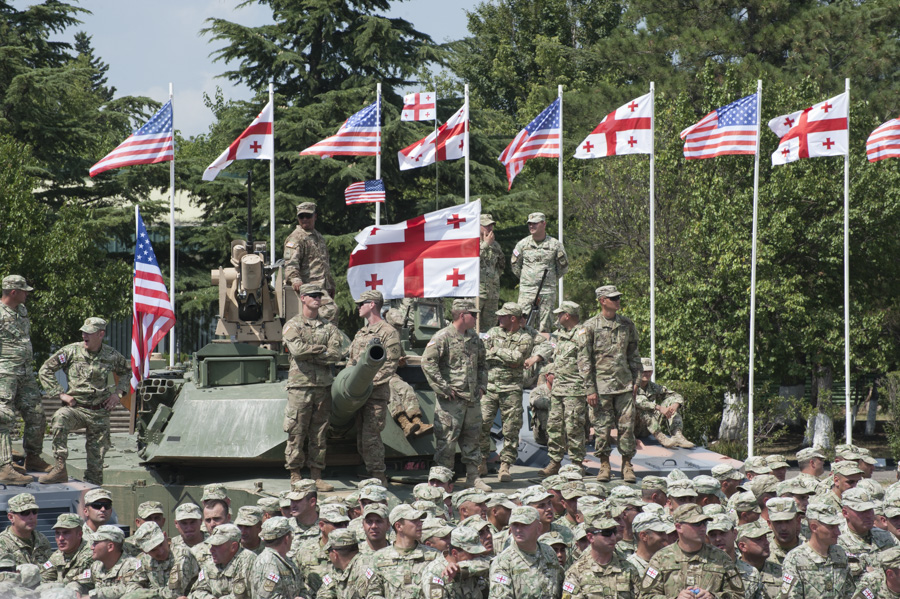 U.S.-led Noble Partner exercise participants in the Vaziani training area, August 1, 2017. Photo: Eana Korbezashvili / Civil.ge
The Georgia Defense Readiness Program (GDRP), a large U.S.-funded training program set to be launched next spring, will "strengthen the country's territorial defense capabilities," Georgian Defense Minister Levan Izoria announced following his meeting with United States Defense Secretary James Mattis on November 13.

In the words of Levan Izoria, the U.S.-Georgian relations "stand at a qualitatively new level of cooperation." "We are working on long-term planning instruments which will be designed for 3-5 years and this is unique in our relations."

The Defense Minister then noted that U.S. funding for defense reforms in Georgia "has been increasing year-by-year," and that in 2017-2018 the amount would exceed USD 100 million, which "will be mostly used for training and equipping our armed forces."

"The Georgia Defense Readiness Program is particularly important in this regards: we will be launching the program next year and it will entail training of nine battalions in the three following years," Levan Izoria said.

The Defense Minister stressed that if previously the armed forces "were mainly trained for serving in international missions," the task under GDRP "would be to strengthen the country's territorial defense capabilities." "These two are not mutually exclusive, they rather complement each other."

Levan Izoria also noted that a new Joint Combat Training Center would be opened within the program, and modern tactical weapons, including secure communications systems, would be purchased.

"All these will help us increase our defense capabilities, make the country more sustainable, reliable and resilient, which is the most efficient way for strengthening our defense capabilities in both components – in terms of ensuring global security and stability under international missions, and in terms of the country's territorial defense needs," Minister Izoria added.

The Defense Minister spoke on the new training program following his meeting with Senator Lindsey Graham (Rep. - South Carolina) on November 14, saying that the Joint Training Center would be located in the Vaziani Military Base just outside Tbilisi, and clarifying that new weapons "of NATO standards" would be purchased for nine battalions and that these battalions would undergo territorial defense training for three subsequent years.

"Simultaneously, we remain committed to our international obligations, namely in terms of ensuring peace and stability in Afghanistan," the Minister concluded.