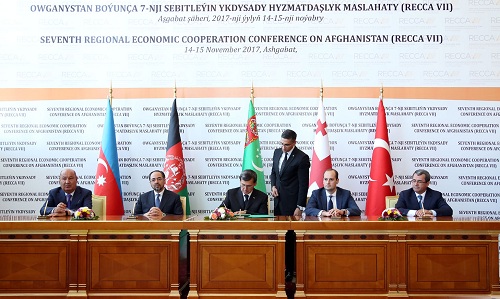 Officials from Azerbaijan, Afghanistan, Turkmenistan, Georgia and Turkey signing the Lapis Lazuli agreement. Ashgabat, November 15, 2017. Photo: MFA Georgia
During his official visit to Turkmenistan on November 15, Georgian Foreign Minister Mikheil Janelidze, together with Afghan, Turkish, Turkmen and Azerbaijani officials signed a new multimodal transport and transit agreement on the Lapis Lazuli Corridor.

The Lapis Lazuli Corridor, worth an estimated USD 2 billion, unites land, railway and naval routes passing from Afghanistan to Europe, via Turkmenistan, the Caspian Sea and the South Caucasus.

According to the Georgian Foreign Ministry, the agreement is designed to promote transport connections between the five nations through facilitating movement of cargo and passengers, as well as through harmonizing transit-related administrative procedures.

"Today, we have signed a very important multilateral agreement. Afghanistan, Turkmenistan, Azerbaijan, Georgia and Turkey are the countries, who laid the foundation for a new transit corridor. It entails the movement of more freight via this corridor, as well as new opportunities for our countries, Georgia and the region," Janelidze said.

During his visit to Turkmenistan, Foreign Minister Janelidze also participated in the 7th Regional Economic Cooperation Conference on Afghanistan and held talks with his Turkmen counterpart and Deputy Prime Minister, Rashid Meredov. According to the Turkmen Foreign Ministry, the sides discussed bilateral cooperation issues in the fields of fuel and energy, as well as transport and communications.