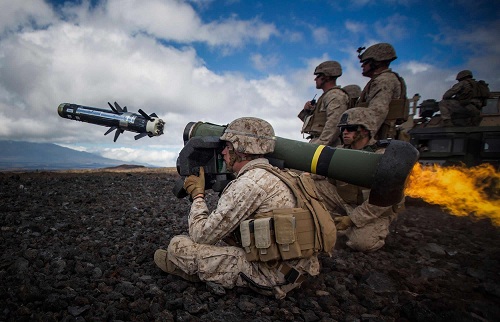 A U.S. Marine fires a Javelin at a simulated enemy tank at Pohakuloa Training Area in Hawaii. Photo: U.S. Marine Corps
"The State Department has made a determination approving a possible Foreign Military Sale to Georgia for Javelin Missiles and Command Launch Units for an estimated cost of $75 million," the Defense Security Cooperation Agency (DSCA) wrote in its news release on November 20.

DSCA, an agency of the United States Department of Defense, specified that the arms sale includes 410 Javelin Missiles, and 72 Javelin Command Launch Units, as well as the elements of logistics and program support.

Javelin, described as the world's most lethal one-man-portable anti-armor weapon system by its U.S.-based producer - Raytheon/Lockheed Martin Javelin Joint Venture, is widely used by the U.S. Army and the U.S. Marine Corps.

According to DSCA, the proposed sale would "contribute to the foreign policy and national security of the United States by improving the security of Georgia." "The Javelin system will provide Georgia with increased capacity to meet its national defense requirements."

The Agency also noted that the proposed sale and support would "not alter the basic military balance in the region," and that there would be "no adverse impact on U.S. defense readiness as a result of this proposed sale."

DSCA also explained that it had delivered the required certification notifying the United States Congress of this possible sale on November 17, 2017. "The notice of a potential sale is required by law and does not mean the sale has been concluded," DSCA added.

The announcement comes less than a week after Defense Minister Levan Izoria visited the United States, where he held a meeting with Defense Secretary James Mattis and spoke on the new U.S.-funded training program – the Georgia Defense Readiness Program.