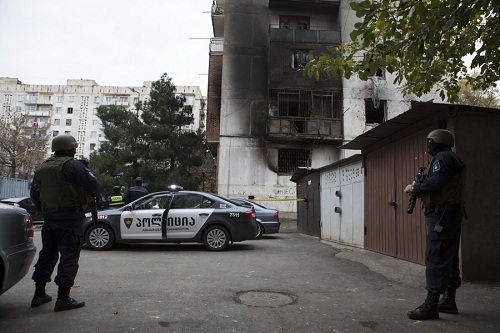 Special forces officers stand outside the apartment armed suspects were blocked, November 23, 2017. Photo: Eana Korbezashvili / Civil Georgia
Three suspects have been killed and one captured as a result of the counter-terrorist operation by the Georgian security forces, according to the State Security Service briefing at 19:00.

One security forces serviceman has been killed and four wounded.

The SSS representative reiterated that the suspects were foreign citizens, though refrained from specifying their origins, or other details of the incident.

The State Security Service also reported that surveillance over the suspects had been ongoing for several weeks, and that the SSS was conducting, "within the international counter-terrorism cooperation, relevant activities to identify the group members and their links to criminal networks."

The SSS representative also stated that further details would be provided in coming days.

Context

The State Security Service said late-night yesterday that the Counter-terrorism Department was carrying out an operation in Isani District of Tbilisi to detain unidentified number of individuals, who opened fire at the law enforcement officers.

Eyewitnesses said the sounds of gunfire and explosion intensified early morning on November 22. The area of the operation was blocked off by the security personnel, while the later footages showed several armored vehicles, as well as additional units of camouflaged officers being deployed to the scene.

Shooting from both the counter-terrorist troops and the suspects continued for most of the day, interrupted by periodic pauses. As of 17:00, the counter-terrorist operation was over.