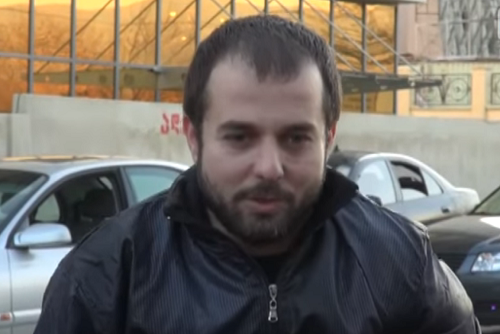 Ahmed Chatayev speaking to reporters following his release. Tbilisi, December 6, 2012. Photo: screengrab from info 9
Vakhtang Gomelauri, head of the State Security Service of Georgia, said "there are suspicions" that one of the gunmen killed in the November 22 anti-terrorist operation in Tbilisi could be Ahmed Chatayev, a Russian national of Chechen origin designated as ISIS member by both the United States and the United Nations.

Speaking to reporters on November 26 at the burial ceremony of a security service officer killed during the operation, Vakhtang Gomelauri said the investigation into the matter would be carried out jointly with the United States.

"I cannot yet speak about new details, considering the interests of the investigation, but what I can say is that relevant institutions of our strategic partner, the United States, are involved," Gomelauri noted.

Asked to comment the media reports that one of the deceased suspects could be Ahmed Chatayev, Gomelauri said "there are suspicions that it could be [Chatayev]." "Whether it was Chatayev or not, we will definitively know once the DNA testing is over."

Gomelauri touched upon the suspects' intentions as well, saying "I cannot yet say [what threats were averted], since investigation is underway and it is a little difficult to speak of these threats." "However, we had operative information, that some large-scale activities were being planned, which we prevented from happening."

Ahmed Chatayev was listed as terrorist by the U.S. Treasury in 2015 for planning attacks against unspecified U.S. and Turkish facilities. In 2015, he was also added to the UN Security Council's Al-Qaida Sanctions List. Chatayev is wanted by the Russian authorities as well.

Chatayev was wounded and arrested by the Georgian police following the Lopota gorge clash in late August 2012, but was soon released from jail on bail. Georgian prosecutors dropped the case against him in January 2013, citing absence of evidence. Soon after his release, Chatayev left Georgia, saying he intended to go to Austria to rehabilitate from his wound. By 2015, he had moved to the ISIS-controlled areas in Syria and Iraq.