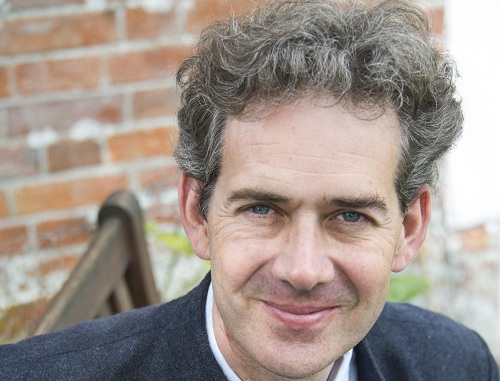 Thomas de Waal. Photo: Larissa Wilson
Civil Georgia interviewed Thomas de Waal, Senior Fellow at Carnegie Europe, Brussels-based think tank on European foreign policy analysis.

In your mind what are the chances for the Georgian democracy to develop further in the coming years?

I should make a few general observations about Georgian democracy to begin with, that will come as no surprise to readers. First, Georgia is still evidently the most pluralist and freest country amongst its neighbors. That is even more marked now that Turkey has taken a nasty authoritarian turn. But also, Georgia's progress since 1992 has proceeded in zig-zags. Each of its three big leaders since then has done both positive and negative things for the country.

I think the problems we are seeing now are a recurrent feature of all three of those post-1992 governing regimes. Two issues stand out. The first is the consolidation of one-party dominance, even if it is achieved by more or less fair means. That had a suffocating effect on democratic development under Shevardnadze and Saakashvili and threatens to do so again under the Georgian Dream. That kind of control breeds arrogance and leads the ruling party to live in an echo chamber, not listening to the advice of others. The second issue is the unchecked power of elements of the security services - it is what the Turks call a "deep state" although it is not as powerful in the Georgian case. It is these figures in the shadows who were almost certainly behind the kidnapping of Afgan Mukhtarli and who may have done so without the knowledge of the prime minister.

The main mitigating factors, I would say, are that the Georgian ruling class still sees the political game as one to be fought by democratic rules - even if they are getting bent from time to time. And also the public has got the "habit of democracy" and is prepared to stand up for its rights if it sees them being undermined. So there are still domestic checks and balances. There is also clearly a strong external check coming from the United States and the European Union, even if leverage has been reduced since Brussels granted the last major (and deserved) benefit currently on the table in the form of visa-free travel to the Schengen zone. But no government wants to lose Georgia's status as a democratic success story.

Much has been written about the need for the so called pro-Western "third force" to emerge. Irakli Alasania and David Usupashvili have been touted as potential leaders in various times, but they failed to garner any serious following. The independent mayoral candidate for Tbilisi Aleko Elisashvili, who was widely viewed as a potential challenger to Georgian Dream's Kakha Kaladze did finish second, but with just 17% of votes - failing to bring the mayoral contest to runoffs. What are the reasons for these failures, in your mind? Will you see the emergence of such "third force" possible, or indeed necessary?

Like many European friends of Georgia, I know those two gentlemen personally, hold them in high regard and had hopes that they would be given the chance to rule Georgia. Of course they have made mistakes, but their positive qualities clearly outweighed their flaws.

There are issues of electoral tactics and the persistent failure of Georgians to form alliances - with Georgian Dream in 2012 being the conspicuous exception to that rule. But it is a bigger phenomenon than that. I have referred to Alasania and Usupashvili as being "superfluous men" in the analogy of the heroes of Russian literature of the 19th century - men of vision and talent whom their country rejected.

Why did the Georgian public not share our enthusiasm? Well, obviously it is a bigger deal than just Georgia. I saw how Grigory Yavlinsky had the same "superfluous" status in Russia in the 1990s. We should also ask why the people of Poland recently voted out a pro-European government which had provided prosperity and boosted the country's status in the world, in favor of a band of populists and conspiracy theorists. And of course my country is now facing what I see as enormous self-inflicted damage with the Brexit vote and America has managed to get itself Donald Trump as president. All round the world, a lot of voters want to hear about easy answers, quick fixes and slogans which blame foreigners for our problems.

Compared to these situations, Georgia is not in such a bad place, I would say. The current Georgian Dream government has kept up its pro-European orientation and has many smart people working for it.

But I do not believe it that it is merely enough to "keep calm and carry on." The populist temptation is clearly still out there. I think that Georgia's pro-Western politicians need to spend a lot of time listening to voters, especially out in the regions. And I also think that they need to take another look at their economic policies. There is still a consensus among them about the need for neo-liberal economic ideas (small government and balanced budgets). That is clearly a legacy of living in a post-socialist country. But there are other ways of tackling unemployment and economic inequalities. I would say that Georgia is ready for a European social democratic party, which takes on the issue of inequality more seriously, while not abandoning its democratic values.

You have recently visited Abkhazia and wrote extensively about this topic. Georgians have been concerned at increased pressure on Gali residents - abolition of Georgian-language schools, situation with their civil rights, pressure to change their family names and identity. Worse instances, like demolitions of the expelled Georgians' homes in Eredvi village, have been observed in so called South Ossetia. What are the reasons for Sukhumi authorities hardening their stance, and what can Georgia – or the international organizations – can do to remedy the situation?

I will not say anything about South Ossetia as I only follow the situation there from a distance. Evidently, it is an awful situation there, with the destruction of Georgian villages, migration of much of the Ossetian population and economic stagnation.

As for Abkhazia, there are several negative tendencies, as you say, which are hurting the people of Gali Region in particular. Especially worrying is the slow reduction of Georgian-language teaching in schools there.

What lies behind this? I think it is the result of a weak president and the intensification of internal power struggles, which mean that all the politicians are asserting their patriotic credentials and almost no one is brave enough to stand up for the poor people in Gali. As one wise former Abkhaz official said to me when I visited in October, the external factor stopped being so important for us after Russian recognition in 2008, which made it possible for internal politics to get more aggressive.

It is also the result of years of isolation and a rather claustrophobic atmosphere in Abkhazia in which the outside world basically comes to them only through Russia. So that is a strong argument against punishment or isolation for these kind of actions - it will only push the Abkhaz further into their isolated fortress. More international engagement is needed, as I have argued for a long time, and the carrots on offer need to be bigger to change the incentive structure and make them behave better. It is important to say that these kind of offers need to come first and foremost from international actors, chiefly the EU, as there is still high distrust of any initiatives from Tbilisi. And that means the Georgian government has to be able to step back and allow the internationals to come up with some more "status-neutral" ideas which will give the Abkhaz opportunities to travel abroad and to have international organizations work in Abkhazia.

Lastly, where do you think we stand in the European Union and the U.S. understanding and addressing the challenge from Russia?

I have just written an article with Alexander Baunov, my brilliant colleague from Carnegie Moscow Center, about "Red Scares" and how we must get the real nature of what does and does not constitute the "Russian threat" in perspective. Let's be honest: a few hundred Russian trolls and hackers, aided by Sputnik and RT, are not going to undermine Western democracy - unless we allow them to. Indeed, the Kremlin's tactics over the last few years have been largely bluff - proclaiming that Moscow bestrides the world again as a global power, when its real capacity is far weaker than it ever was as the Soviet Union. Much of the Western media is busy validating that narrative - to the scarcely concealed delight of Putin's administration. Russia does pose a kind of threat, but one that can be dealt with in my view by greater Western resilience and greater intellectual courage.

Obviously Georgia is in a more vulnerable situation. But from my unemotional analytical perspective I also do not see any reason to panic. I see that the Caucasus has moved down Moscow's agenda since 2014. I do not believe there is a single policy. Certain elements of the Russian elite (the siloviki) still try to provoke Georgia on the boundaries of Abkhazia and South Ossetia, but we also see that others are happy to do business with Georgia and see transport links and tourism grow.

I also see a few signs that Putin is in a mood to consolidate what he has already, rather than to escalate the problems with his neighbors. That may be because he now faces a more serious domestic political challenge than he expected in the March 2018 elections. There may be domestic protests and that leaves less time for foreign adventures. So I see some indications that Moscow may finally sign off on the transport corridors deal that it did with Georgia in 2011 in order to get into the World Trade Organization. Russia's acquiescence to Armenia signing a partnership deal with the EU is another symptom of this policy. And Moscow's apparent support for the idea of a UN peacekeeping force for Donbass may be a tactical maneuver but it at least shows the Russians do not want an escalation of the conflict in eastern Ukraine.

So in this case I do advocate a policy of "Keep calm and carry on." Or, more precisely, "Use the opportunity to build up your own domestic and economic resilience, while Russia is in a more pragmatic frame of mind." After all, every year that passes takes Georgia and the rest of Russia's neighbors further from the legacy of the Soviet Union and lessens Moscow's influence. Be vigilant, work hard on your own problems and time is surely on your side.