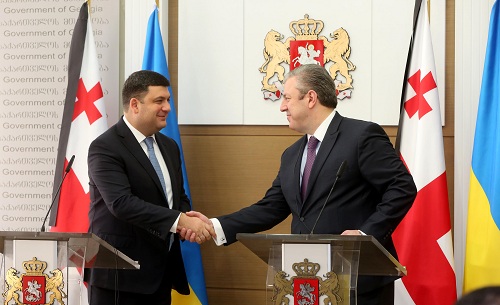 Volodymyr Groysman and Giorgi Kvirikashvili, November 27, 2017. Photo: gov.ge
Ukrainian Prime Minister Volodymyr Groysman discussed bilateral relations and multilateral cooperation with Georgian leaders during his first official visit to Tbilisi on November 27.

Prime Minister Giorgi Kvirikashvili was the first to meet his Ukrainian counterpart, with the two sides discussing a range of political, economic and humanitarian issues.

Following their face-to-face meeting, the two Prime Ministers held a meeting in extended composition, where Kvirikashvili stressed that Ukraine and Georgia "have a lot in common," and that the countries have "traditionally friendly ties" and "common strategic aspirations." "It is crucially important that we cooperate and achieve these aspirations together," he said.

Prime Minister Kvirikashvili then noted that the two countries had similar challenges as well. "Georgia is a firm supporter of Ukrainian sovereignty and territorial integrity within its internationally recognized borders, and from our side, we are grateful to Ukraine for its consistent position towards Georgia, our territorial integrity and sovereignty," he added.

The two Prime Ministers spoke on supporting each other's sovereignty and territorial integrity at their joint press briefing as well, with PM Kvirikashvili noting in his remarks that "Georgia condemns the occupation and annexation of the Autonomous Republic of Crimea and the city of Sevastopol, as well as the Russian Federation's aggressive and illegal actions in Ukraine's eastern regions."

"Russia's illegal actions in Ukraine represent a continuation of its aggression in Georgia, which took place in August 2008 and as a result of which, Georgia's Abkhazia and Tskhinvali/South Ossetia regions have been occupied," he noted, adding that it was important to continue supporting each other and acting together in international organizations, "so that Georgia's and Ukraine's interests, challenges and problems remain in the focus of the international society."

Groysman, on his part, thanked the Georgian Prime Minister for the country's support of Ukrainian sovereignty and territorial integrity and pledged to remain a committed partner of Georgia.

He also emphasized on the transit potential of the two countries in the context of China's Belt and Road initiative and stressed the need of simplifying entry procedures for Georgian and Ukrainian citizens through enabling them to cross the borders with ID cards only.

Ukrainian Prime Minister's press office reported that Volodymyr Groysman also focused on Georgian-Ukrainian economic relations at his meeting with PM Kvirikashvili, and quoted him as saying that the bilateral trade turnover of the two countries "should increase to USD 1 billion."

As part of his two-day visit to Tbilisi, Volodymyr Groysman also met with President Giorgi Margvelashvili, Parliamentary Chairman Irakli Kobakhidze and Defense Minister Levan Izoria. He also visited the rehabilitation center in Tserovani, where Ukrainian fighters wounded during the war in the Donbas region of eastern Ukraine are undergoing treatment. On November 28, Groysman will attend the Tbilisi Belt and Road Forum.