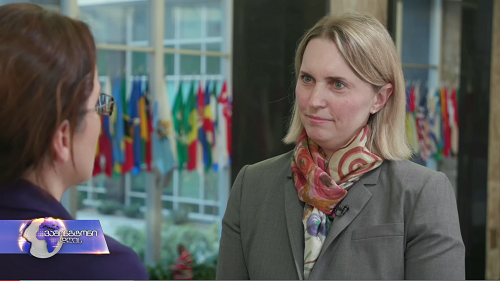 Bridget Brink. Photo: Screengrab from VoA interview
Deputy Assistant Secretary of State Bridget Brink told Voice of America's Ia Meurmishvili that Javelin weapons system will be an important addition to Georgia's ability to defend its borders and improve its defense capabilities.

Ia Meurmishvili anchors VOA's weekly show Washington Today and can be followed on Twitter @iameurmishvili or on Facebook.

Bridget, thank you very much for finding time to talk to us. The U.S. State Department recently approved the sale of Javelins to Georgia. How important is this decision?

Thanks a lot for your questions and it is great to see you. On November 17, the U.S. Congress was informed that the United States [administration] approved a proposed sale of Javelin Weapon System to the Republic of Georgia under the U.S. foreign military sales program. This proposed sale is in line with existing defense cooperation with Georgia, whose aim it is to support Georgia's ability to defend itself and also to support a strong U.S. defense partner. Georgia is a sovereign, independent country, which has a right to choose its future, including the right to choose its defense orientation as well as the source of its military capability.

Georgia has unsuccessfully tried to acquire Javelins for a few years, starting from the Bush administration to President Obama. Why was it authorized now?

I think we are looking at our defense cooperation with countries. Of course, this is the Trump administration and consistent with the existing defense cooperation – and we have increased our defense cooperation with Georgia in various ways over the years – we see this as in line with existing policies.

How important is this sale for Georgia? Do you think it will contribute to Georgia's overall security? Is it compatible with Georgia's current military capabilities?

I do not want to speak for the Georgian government. But from our perspective this is an important addition to Georgia's ability to defend itself, defend its borders and contribute to its overall defensive capability.

And, it is a $75 million sale?

Yes, the proposed sale is 75 million dollars and it consists of several components of the Javelin System.

Is it going to be a one-time purchase or would it be acquired over time?

I am not familiar with the details on how it would be purchased. This would be something that will be negotiated between us as a government and Georgia as a government. But, the meaning of this particular notification and approval is that the U.S. government is ready to respond positively to the sale and negotiate for a final deal.

Do you anticipate any resistance to this proposal on the Hill?

Of course, Congress is separate, but equal branch of the government. During this process we also do a normal notification process and at times we have been in consultation with the Hill. Again, not to speak for Congress, but we are hopeful that there will be an ability to conclude the sale if the Georgian government goes forward.

The material was prepared for Civil.ge by the Voice of America. In order to license this and other content free of charge, please contact Adam Gartner.