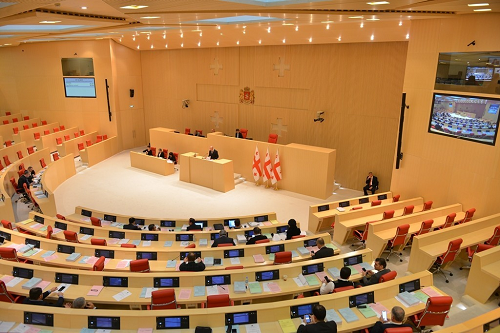 Parliament Endorses PM's Structural Reform Plan, December 7, 2017. Photo: parliament.ge

The Parliament of Georgia endorsed on December 7 the Government-initiated package of legislative amendments envisaging the merger and reorganization of several ministries and executive agencies.

According to the changes, the Ministry of Energy will be merged with the Ministry of Economy and Sustainable Development, while the Ministry of Environment and Natural Resources Protection will be divided, with its natural resource management component being transferred to the Ministry of Economy and the environmental component being merged with the Ministry of Agriculture. The latter will be named the Ministry of Environment Protection and Agriculture.

The Ministry of Sport and Youth Affairs will also be abolished. Its youth component will be merged with the Ministry of Education and Science, and the sports component – with the Ministry of Culture and Monument Protection. The new ministry will be named the Ministry of Culture and Sport.

In other structural changes, the new Emergency Management Center will be established through the merger of the Emergency Management Agency of the Ministry of Internal Affairs and the State Security and Crisis Management Council under the Prime Minister.

Initially, the structural reform plan also envisaged the merger of the Foreign Intelligence Service with the State Security Service, but the proposal was met with disagreement in the ruling party, opposition parties and civil society organizations, and the Government decided to withdrew the respective legislative proposal.

The Parliament discussed the package of legislative amendments in an accelerated manner at its special plenary session on December 6-7. The parliamentary opposition did not support the Government-proposed package citing its failure to provide staff and budgetary impact calculations of the reform plan. Opposition lawmakers from the European Georgia and the Alliance of Patriots participated in the plenary debates but did not take part in the voting, while MPs from the United National Movement did not attend the sittings.

The parliamentary endorsement does not end the Government-initiated structural reform process. According to the plan unveiled by Prime Minister Giorgi Kvirikashvili on November 13, the Office of the State Minister on European and Euro-Atlantic Integration will be merged with the Ministry of Foreign Affairs and the change will be approved by the Government's respective legal act.

As a result, 13 ministries and only one office of the State Minister - that for Reconciliation and Civic Equality - will continue functioning in the Cabinet instead of the current 16 ministries and two offices of the state minister.

The changes will require for the entire cabinet to win confidence vote from the Parliament that will take place within coming weeks. The Parliament will also have to approve the 2018 state budget before the end of this year, the draft of which already reflects the new composition of the Government.