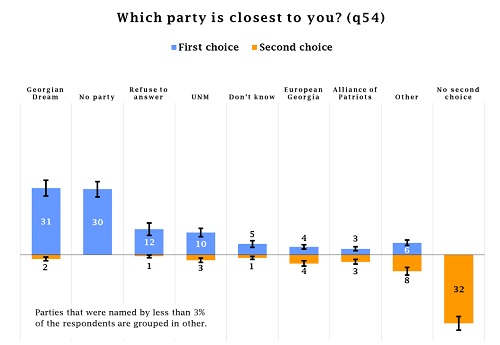 NDI/CRRC public opinion survey, December, 2017
A recent poll, carried out in about a month after the October 21 Municipal Elections, shows the Georgian Dream – Democratic Georgia (GDDG) enjoying strongest public support with 31% of respondents identifying GDDG as "the party closest" to them, compared to the United National Movement's (UNM) 10%.
The poll, released on Thursday, was fielded by CRRC for the U.S. National Democratic Institute (NDI) between November 29 and December 19. The survey was conducted through nationwide face-to-face interviews (excluding occupied territories) with 2,298 respondents and has a margin of error plus, minus 1.9%.
According to the survey, 17% of respondents, either refused to answer or said they did not know which party was closest to them. 30% of respondents indicated "no party" to the question. The European Georgia and Alliance of Patriots received 4% and 3%, respectively, while 6% of respondents named other parties.
In NDI/CRRC's June opinion poll, the ruling party was named by 23% of respondents as the party closest to them, followed by UNM – 9%, European Georgia and Alliance of Patriots with 4% each.
GDDG garnered 55.81% of votes in the October municipal elections, followed by UNM with 17.08%, European Georgia – 10.4% and Alliance of Patriots – 6.56%.
Asked which party they would vote for if parliamentary elections were held tomorrow, 27% of likely voters named Georgian Dream; 10% - United National Movement; 3% - European Georgia; 7% - other parties. 24% of respondents responded "no party" and 15% responded "don't know."
"It appears people, particularly youth, are still waiting for compelling messages from parties about what they would do differently, how they would deliver better outcomes. Until then, it is unlikely we will see any big shifts in party preferences," said Laura Thornton, NDI senior country director.
Asked what they expected from the member of the Parliament, 75% of respondents responded that he/she will do what the party tells him/her; 55% expects them to be active; the same number of respondents think that the members of the Parliament will only serve their own interests and 41% said that they will represent voters' interests.
Asked who their majoritarian MP was, 26% responded correctly, 14% gave an incorrect answer and 59% did not know at all.
Respondents were also interviewed on current events. Only 25% of respondents were aware about the constitutional amendments approved by the Parliament on September 26, 2017. The same number of respondents knew that the Parliament set up the state constitutional commission in December, 2016.
6% of respondents, who were aware about the constitutional amendments, believe that the amendments fully reflect the citizens' opinions; 60% responded that they "reflect partially" and 18% - "do not reflect at all."
The poll also involves respondents' opinions on adopting mandatory quotas in the Parliament to increase women's participation. 63% of respondents expressed support to adopting mandatory quotas.