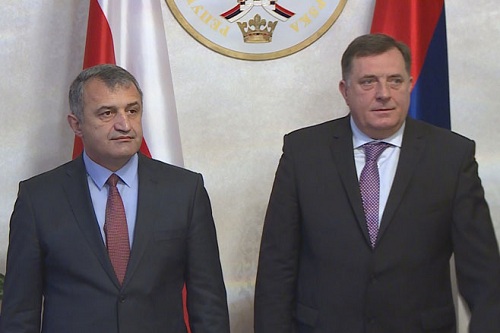 Anatoly Bibilov and Milorad Dodik, January 10, 2018. Photo: RTRS
The Moscow-backed leader of South Ossetia, Anatoly Bibilov, was on a three-day trip to Bosnia and Herzegovina in early January. In Banja Luka, Bibilov held two meetings with Republika Srpska President Milorad Dodik and took part in the disputed Day of the Republic celebrations, causing Tbilisi's indignation.

Civil Georgia has asked Srecko Latal, Bosnian analyst, to comment on the context of Bibilov's visit to Bosnia and Herzegovina, as well as its possible consequences.

Latal, who covered the Balkans for several major international media and analytical organizations since 1990's, is now regional editor of the Balkan Investigative Reporting Network (BIRN) and director and senior analyst for the Social Overview Service think-tank.

Could you tell us more about the visit, as well as its internal context, both for the country as a whole and particularly for the Republika Srpska? More specifically, why do you think Dodik, leader of an internationally-recognized political entity, was so eager to host a man with such a questionable political status: was it a message to Sarajevo or was it something else?

The recent visit of the South Ossetian leader Anatoly Bibilov to Bosnia's Serb-dominated entity of the Republika Srpska (RS) - at the time when the Srpska authorities were marking the day which they announced as their national holiday, but which was declared unconstitutional by the Constitutional Court of Bosnia and Herzegovina - should be observed primarily in the context of RS President Milorad Dodik's continued separatist initiatives and his attempts to boost international recognition of the Republika Srpska.

Nevertheless, Bibilov's visit to Serbia and RS drew very limited local public attention despite media coverage provided by few media organizations controlled or influenced by Dodik's government in RS, or few pro-Russian media in Serbia.

Numerous surveys and analyses have clearly showed that many Bosnian Serbs do not support Dodik's separatist or nationalist agenda, which is also demonstrated in the fact that he has been repeatedly criticized and opposed by a group of opposition parties which in the last general elections in 2014 came very close to toppling his party from power. Several of these opposition leaders, including Igor Crnadak, who is a senior member of the Party of Democratic Progress (PDP) and Bosnia's current Foreign Minister, have publicly criticized Dodik for enabling Bibilov's visit, which was never officially announced or managed by Bosnia's state government. In general, it should be said that there are hardly many RS citizens who took note of Bibilov's visit and there are even less of them who would want to see the Republika Srpska sharing the same or similar fate.

The visit has raised alarms in Tbilisi, with the Ministry of Foreign Affairs submitting a protest note to Sarajevo. Foreign Minister Igor Crnadak was quick to reply, saying the Ministry was not officially informed about the visit and that it was in no way involved in the process. What do you make of the Bosnian government's handling of the matter? Was the reaction timely, sufficient?

The Bosnian government and its officials indeed very quickly reacted and explained that they were neither informed of, nor involved in the visit of Mr. Bibilov to RS in any way, which means that this was in no way an official visit to Bosnia and Herzegovina. I would also stress that Mr. Crnadak in his press conference, which he held on this issue on January 11, stated that Bibilov's visit would "damage" the interests of the Republika Srpska, which also clearly shows that this visit did not enjoy support from all RS citizens or officials.

Prior to his trip to Bosnia and Herzegovina, Bibilov traveled to Belgrade and Novi Sad in Serbia. The South Ossetian leader had a warm welcome there as well; in Belgrade, he met with Serbian Patriarch Irinej and Crown Prince Alexander. Some reports have also claimed Bibilov arrived in Banja Luka on a Serbian government plane, which allowed him to side-step the visa procedures to Bosnia and Herzegovina. What was the Serbian take on the visit?

To be very honest, I saw very few media reports and even less details about Bibilov's stay in Serbia, which indicated that the Serbian leadership did not find promotion of this visit to be overly beneficial for Serbian interests. Quite to the contrary, such a low media attention which was paid to this visit in Serbia may suggest that the Serbian leadership has concluded - quite correctly - that such visit could even harm Serbia's relations with the European Union.

Bibilov and Dodik held their first meeting last year, on the sidelines of the St. Petersburg International Economic Forum on June 1. In Banja Luka, the South Ossetian leader was accompanied by Gela Valiev, Kremlin's renowned religious envoy to the Balkans. What do you think was Moscow's role in the visit, is Moscow trying to find avenues for exporting the sort of instability it has pursued in its immediate neighborhood?

The previous meeting of Dodik and Bibilov went almost completely unnoticed by most mainstream media in Bosnia and Herzegovina. The recent visit was mostly ignored as well - at least until the diplomatic note which Bosnia received from Georgia.

I would like to reiterate that most local and international experts clearly saw Bibilov's visit to the Republika Srpska as nothing more than a part of Dodik's attempts to present the entity as an international factor. He has tried this in the past as well, establishing relations often with odd and controversial individuals with little or no effect.

I would also like to point out that even the Russian Federation and its officials have mostly ignored this latest development.

Russia in recent years has used gradual weakening of the American and the EU presence in the Balkans to beef up its own influence in the region, mainly working with or through Serbian or Bosnian Serb officials, and Dodik often played on the card of these good historic relations in an attempt to further strengthen his reign in RS.

However, even the Russian officials openly denied support to his nationalist and separatist initiatives, which was evident in several of their public statements, including the Peace Implementation Statement from the end of 2016, which Russia joined together with other key international actors in the Balkans, and which clearly indicates that Bosnia's two entities have no right of secession.