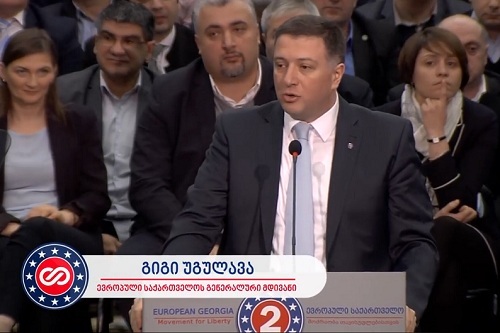 Gigi Ugulava delivering his acceptance speech, February 4, 2018. Photo: screengrab from facebook.com/europeangeorgia.ge
Gigi Ugulava, former Tbilisi mayor and secretary general of the opposition European Georgia party, will run in the April parliamentary by-elections in the Vani and Khoni single-mandate constituency of Imereti region in western Georgia.

"The European Georgia was founded a year ago and has managed to establish itself, but without victories it is impossible to return faith; so, time has come to obtain the first victory on the long and important road of victories," Ugulava said in his acceptance speech at the party congress yesterday.

"The government is losing war against poverty, against unemployment, against crime; we are losing faith in ourselves and in the future of our country, and this is exactly why I accepted this challenge," he said, adding that the voters in Khoni and Vani had "a privilege to be frontrunners in change," and "a chance to reverse the sluggish political life and channel the country to progress."

He also called on other opposition political parties to consolidate, because "if, we, the opposition, win the elections in Khoni and Vani, we will obtain victory at the [2018] presidential elections as well." "The European Georgia is the best platform for opposition since in Khoni and Vani districts we had the best results among the opposition parties in the last municipal elections," he noted.

The European Georgia, which commands 21 seats in the legislature and enjoys the status of the parliamentary minority, quit the United National Movement in January 2017, three months after the parliamentary elections. In October, it ran in the municipal elections and garnered 10.4% aggregate votes nationwide.

The Khoni and Vani majoritarian seat became vacant after Grigol Liluashvili, a ruling party lawmaker, who chaired the Parliament's committee for regional policy and self-governance, was appointed as the deputy head of the State Security Service. Exact date of polls will be announced by the Central Election Commission two months before the Election Day.