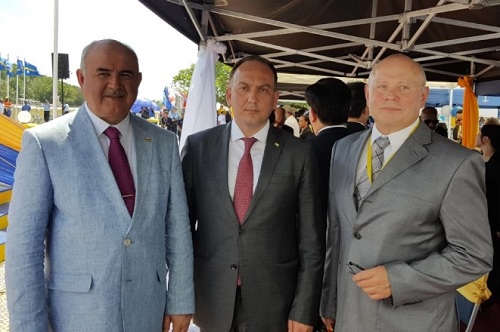 South Ossetian and Abkhaz "foreign ministers," Dmitry Medoev and Daur Kove, respectively, together with Grigory Logvinov, ambassador of the Russian Federation to the Republic of Nauru, February 1, 2018. Photo: mfa-rso.su
Members of the Russian-backed Sokhumi and Tskhinvali authorities were on a visit to Nauru last week, where they met the President of Nauru, Baron Waqa, and attended celebrations marking the nation's 50th anniversary of independence.

Civil Georgia has asked Professor Rouben Azizian, Director of the Center for Defense and Security Studies at Massey University in Nеw Zеаlаnd, to comment on the Abkhaz and South Ossetian visit to Nauru, as well as on its regional and internal contexts.

Members of the Russian-backed Sokhumi and Tskhinvali authorities were on a visit to Nauru at the invitation of President Baron Waqa. Could you tell us more about the visit?

Representatives of the two breakaway republics were invited to the celebrations of Nauru's 50th anniversary of independence. Their participation is a result of consistent efforts by Nauru as well as by both republics to maintain close relations. South Ossetia has even appointed an envoy to Nauru.

For Nauru, one of the smallest and poorest nations in the world, such partnerships bring opportunities of financial aid from Russia, an enhanced voice in international relations, even if for wrong reasons, as well as a leverage to squeeze financial and political concessions from neighboring Australia and New Zealand. Nauru, for example, has had serious tensions with New Zealand over its human rights violations and political freedom suppression.

With Tuvalu and Vanuatu rescinding their recognition, Nauru is the only remaining nation in the region recognizing the two regions. Do you see Nauru following the suit and withdrawing its decision?

It could happen if there is a change in Nauru's political leadership (the next presidential and parliamentary elections are in 2019), if Australia, Nauru's largest donor, decides to withdraw its financial support to Nauru (Canberra has not made any statements of that sort yet and would be concerned for Nauru's stability and possible departure from its sphere of influence) or if Russia does not continue to adequately financially compensate Nauru's current Caucasus policy (Russia's donations are modest and affordable, but could be reconsidered if the strategic context of its relations with the United States under president Donald Trump starts to change - a distant possibility however). The Government of Nauru clearly understands the high stakes in this diplomatic game and may change its policy if its current stance starts causing more pain than relief.

Russia has been actively promoting the international contacts of the two regions. It is also clear that the recent trip would not have been possible if not for its political endorsement and financial backing. What is Moscow trying to achieve in the region and what do you think was Moscow's role in this specific visit?

Russia has several objectives in this distant for her part of the world. Moscow has proclaimed more interest and involvement in the Asia-Pacific region where its influence remains limited. In the situation when it has problematic relations with the West, Russia is looking for new partners, large or even small. Recognition of Abkhazia and South Ossetia are part of Moscow's ongoing confrontation with the West. Moscow has been cultivating ties with the Pacific Island nations who are trying to diversify their foreign policy and lessen dependence on Australia and New Zealand. Moscow has also been a venue for regular contacts between the breakaway republics and Nauru officials. It was during one of such meetings when Nauru President invited them to attend the anniversary celebrations.

The United States has been equally active in its counter-measures, specifically as it concerns the recognition issue. Banning financial assistance to countries which recognize the two regions is one of the examples. What is your view on the United States policy in the region, and specifically as it relates to the Russia issue?

The United States, of course, is actively countering the activities to promote Abkhazia's and South Ossetia's independence. In the South Pacific, however, Washington's diplomatic presence is not that strong. The United States very much depends on its strategic ally Australia, and to lesser extent New Zealand, in ensuring a geopolitical environment in the region that is favorable to its global interests. While the United States opposes any growth of Russia's diplomatic influence in the region, Washington does not have a clear strategy on how to deal with Moscow in the Asia-Pacific region. The United States continues to see Russia as a primarily European nation, and misses, in my opinion, on the nuances of Russia's role in the Asia-Pacific.