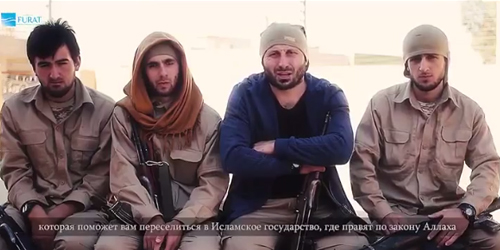 A screengrab from the Islamic State's Georgian-language propaganda video, 2015.
Dozens of militants from Georgia have reportedly joined Daesh and other militants groups in Syria during the last few years. Experts have long warned that as the Islamic State disintegrated as a territorial entity, those who survived were likely to return home. This means not only the return of homegrown fighters to Georgia, but raises risks of North Caucasian fighters using Georgia as a transit location.

On November 21-22 Georgia's security services were engaged in 20-hour shootout in the capital with an armed group, which included senior ISIS member, Ahmed Chatayev. He and two of the suspects were killed. The incident highlighted that the risks of ex-ISIS fighter's infiltration are real. Allegedly, the group plotted terrorist attacks against diplomatic missions in Georgia and Turkey.

Civil.ge has asked Bennett Clifford, Joanna Paraszczuk, and Neil Hauer to comment on the whereabouts of Georgian fighters after the fall of the Islamic State, asking them to also assess the likelihood of ISIS militants from North Caucasus attempting to return to the Russian Federation through Georgia.

Bennett Clifford, research fellow at the Program on Extremism, George Washington University

The November 2017 operation in Tbilisi that resulted in the deaths of Akhmed Chatayev, two of his associates, and one Special Forces service member underscores two significant threats from Georgia's perspective. First, militants from North Caucasus who attempt to return to the Russian Federation may transit through Georgian territory. They are unlikely to be re-admitted into Russia and thus are forced to settle and establish logistical networks in Georgia. Second, Georgian citizens drawn to violent extremist groups may become involved in aiding or assisting these militants.

So far, however, there have only been a few cases where Georgian citizens who fought for jihadist groups in Iraq and Syria attempted to return to Georgia. For Georgian foreign fighters, there are few incentives to return to their native country: it is not a high-profile target for attacks, neither ISIS nor al-Qaeda has an active affiliate in the country, and as Davit Borchashvili found in 2016, penalties are potentially severe if apprehended. Therefore, most choose to remain overseas.

A handful of high-profile Georgian militants have demonstrated extraordinary longevity in Syrian and Iraqi jihadist groups. Despite a false death report in August 2017, prominent ISIS fighter Levan Tokhosashvili (al-Bara Pankiski) is still at large. Non-ISIS Georgian jihadists, such as former Junud al-Sham military leader Murad Margoshvili (Muslim Shishani), are also active in Syria. There are also unconfirmed reports that several Georgian IS-affiliated jihadists may have traveled onward to Afghanistan after the collapse of ISIS territory in Syria and Iraq. Nevertheless, most Georgian jihadists who left for Syria or Iraq will die there - to date, at least 30 citizens of Georgia have been killed in the Syrian and Iraqi conflicts.

Joanna Paraszczuk, freelance journalist tracking Russian-speaking foreign fighters in Syria

It is impossible to assess exactly how many Russian-speaking Islamic State militants survived the fall of the Islamic State. Almost all of those who were in Mosul, were killed in the battle for the city and a few were captured. I have no credible intelligence of the survivors who managed to escape Mosul, though some did escape, of course. A small group of Russian-speaking fighters who remained in Raqqa did manage to survive the fall of the city.

Again, it is impossible to ascertain the exact number, but I am aware of and have been tracking a group of around eight or nine Russian-speaking Islamic State militants who managed to escape from Raqqa in a truck convoy sometime around October 12, 2017. One of those is a Dagestani man who was involved in encouraging the perpetrator of the April 2017 terrorist attack in Stockholm, Sweden. This is the number I can confirm are currently alive - the total number is likely higher, but so far it has not been possible to obtain credible intelligence about other survivors. There are women survivors as well, who have not been captured and are still with the Islamic State. All of the male survivors I am tracking are currently in the area controlled by Islamic State on the east bank of the Euphrates in Syria's Deir Ezzor province.

As it concerns the Georgians, I am aware of only one Georgian Islamic State militant who survived the fall of Raqqa, and that is Al-Bara Pankiski (Levan Tokhosashvili), who managed to escape with his wife and children. However, it is unclear if he is still alive now and if so, where he is. This does not mean that other Georgians did not survive. There are other fighters about whom there has been no credible information since the disintegration of the Islamic State, including Adam Gumashvili (who was apparently some sort of a sharia official probably within a brigade, though his exact role was unclear) and Tamaz Batirashvili (the brother of Tarkhan Batirashvili aka Umar Shishani). If any of the Georgian fighters did survive the fall of Raqqa, then they would almost certainly have left that city with the truck convoy that took them to the IS-controlled areas in Deir Ezzor province. There is a chance, though, that some could have reached Turkey via the same smuggling routes, but again I have no credible intelligence to suggest that any of them did. If any did, then they could of course try to reach Georgia via Turkey. Those who are in the pockets of the Euphrates east bank are not able to escape.

Of course, it is also possible that some Georgian or North Caucasian Islamic State militants managed to escape from Syria before the fall of Raqqa and travel to Turkey or elsewhere. Akhmed Chatayev, for example, who was in Syria, did manage to reach Georgia, though it is not clear when he left Syria. There is evidence that at least one North Caucasian militant who had been in Raqqa and who left before that city was recaptured went to Egypt (though he did not appear to join the Islamic State there in Sinai and his current location is not known). There is also the question of the whereabouts of the group of North Caucasians from Islamic State's propaganda wing, at least some of whom certainly survived Raqqa and - after a short break while they relocated from al-Mayadin just before that town was recaptured on October 14 - are now active again. They could be in the IS-controlled areas of Deir Ezzor, or even in Turkey or elsewhere.

It is far less likely that any North Caucasian militants who survived the fall of Raqqa would attempt to travel back to the Russian Federation, since most are on the international and Russian wanted lists and would find it hard to travel back home.

Neil Hauer, independent analyst focused on North Caucasian fighters in Syria

According to a recent paper by Bennett Clifford (one of the top experts on Georgian jihadists in Syria), a handful of mid-level commanders remain active in northwest Syria with independent groups, as well as several with ISIS. The most prominent independent ones include: Murad Margoshvili (aka Muslim abu Walid al-Shishani), a Kist (sub-group of the Chechen people living in Georgia) from Duisi (Akhmeta, eastern Georgia) who commands part of the Junud al-Sham group; Abu Musa Shishani, a Kist with the Ansar as-Sham group (believed to still be alive but not confirmed); and Abu Bakr Shishani, a Kist with Ajnad al-Kavkaz (believed to be still alive). Of these groups, Ajnad al-Kavkaz is the largest and most active, with likely around 200 total fighters. One of the most prominent Kists in Syria, Feizullah Margoshvili (aka Salahuddin Shishani), was killed in northwest Syria in December 2017.

Two mid-level Kist commanders in ISIS are believed to still be alive as well. One is Tamaz Tsatiashvili (Abu Abdurakhman Shishani), head of ISIS's secret police for its Russian-speaking fighters. The other is Levan Tokhosashvili, head of ISIS's "Vilayat Gurjistan" group. These two could also be dead, but this has not been reported.

While a few Georgian militants may attempt to return to Georgia, most will likely settle in Turkey. There already are large communities of Russian-speaking Caucasian militants there, where they could blend in. A few will likely come back to Georgia, but probably would attempt to return to civilian life and not continue militant activities.

Militants returning to North Caucasus through Georgia is a different story. The Akhmad Chatayev incident in Isani in November showed that such militants can access Georgia, even high-profile and easily recognizable ones like Chatayev. A few former militants have returned to North Caucasus, but have not had an effect there yet. It is certainly possible, though, that Chechen militants in particular may try to return there via Georgia, as with the Lopota (Lapankuri) incident in 2012. Violent deaths from conflict in Chechnya rose by 75% in 2017 (compared to 2016), and while it is still very difficult for militants to operate in or enter Chechnya, I think some will at least try.