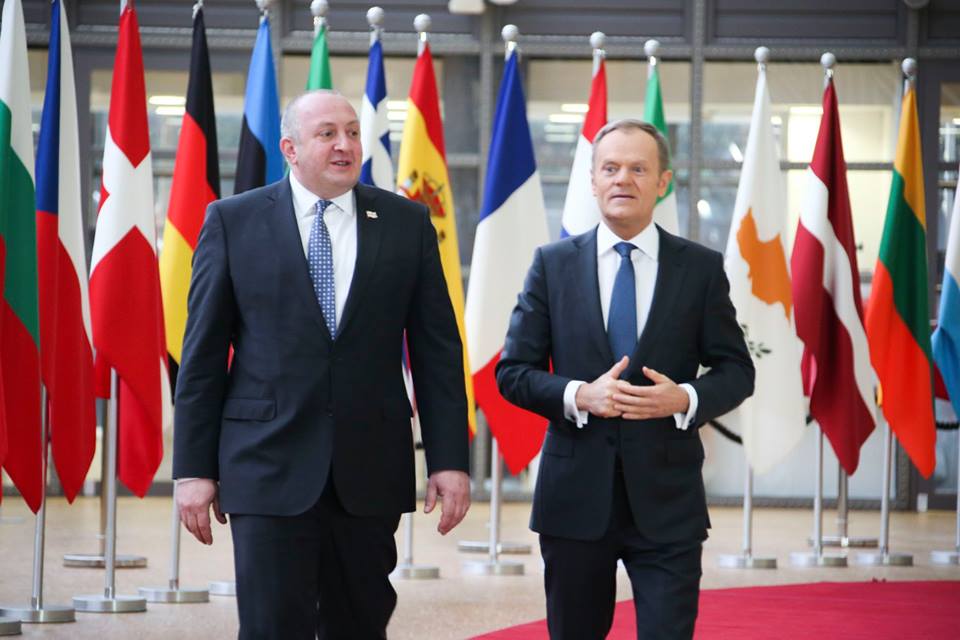 Giorgi Margvelashvili and Donald Tusk, March 8, 2018. Photo: president.gov.ge
Georgian President Giorgi Margvelashvili, who is paying a working visit to Brussels on March 8-10, held a number of meetings with European leaders, and vowed more active government efforts for reducing the growing number of Georgian applications for EU asylum.

The Georgian President held the first meeting with European Council President Donald Tusk on March 8, with Margvelashvili's press office reporting that the sides discussed a range of issues, including EU-Georgia relations, situation in Georgia's occupied territories, and recent developments over the visa-free regime.

"With regard to the visa-free regime, I welcome the commitment of the Georgian authorities to continue working with EU Member States to make sure that it functions properly," Donald Tusk said in his press statement after the meeting.

"The Georgian government has taken an extremely active and responsible position on every issue that has been brought by our partners, and we are ready to do our best on working together, on having a much more effective, functioning and longstanding cooperation," President Margvelashvili responded in his press remarks.
The issue was brought up at Giorgi Margvelashvili's meeting with European Commission President Jean-Claude Juncker, with Margvelashvili reiterating the government's readiness "to take all necessary steps, in cooperation with EU partners, to prevent complications in the process of visa-free travel."

President Giorgi Margvelashvili held a number of other meetings during his visit, including with Research, Science and Innovation Commissioner Carlos Moedas; Education, Culture, Youth and Sport Commissioner Tibor Navracsics; Transport Commissioner Violeta Bulc; and MEP David McAllister, chairman of the Foreign Affairs Committee at the European Parliament.

On March 9, the President is scheduled to meet with EU High Representative for Foreign Affairs and Security Policy Federica Mogherini and NATO Secretary General Jens Stoltenberg.

Giorgi Margvelashvili's visit to Brussels comes few weeks after the authorities confirmed that a number of European countries, including Germany, Iceland and Sweden, had communicated their concerns over the increased number of crimes and asylum seekers from Georgia, triggering doubts that the EU would temporarily suspend the visa-free regime.

As part of its response measures, the government has pledged to intensify police cooperation with European partners on fighting organized crime, tighten regulations for changing last names and carry out a nationwide information campaign.