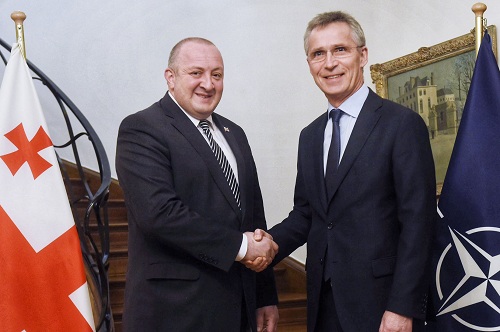 Giorgi Margvelashvili and Jens Stoltenberg, March 9, 2018. Photo: NATO
Georgian President Giorgi Margvelashvili, who is on a two-day working visit to Brussels, held a meeting with NATO Secretary General Jens Stoltenberg, discussing the country's progress on its NATO integration path, and future cooperation plans with the Alliance.

The Secretary General thanked President Margvelashvili "for Georgia's remarkable contributions to international security and to NATO operations and missions, including the contribution to the Resolute Support Mission in Afghanistan and to the NATO Response Force," according to the NATO press release.

The meeting press release reads that Secretary General Stoltenberg "commended Georgia for the progress in implementing important reforms that will strengthen Georgia's democracy and rule of law," and encouraged the country "to continue on this path."
The Secretary General also noted that the Substantial NATO-Georgia Package was "delivering results," and that NATO-Georgia cooperation continued to deepen. He also conveyed his condolences for the death of a Georgian citizen, Archil Tatunashvili, and expressed his hope for the prompt release of the two other individuals who were arrested together with Tatunashvili.

Giorgi Margvelashvili's press office reported after the meeting that the President was invited to the 2018 NATO Summit in Brussels on July 11-12, which Georgia would attend "as an aspirant country and a valued partner of the Alliance." Georgia's participation at the Summit was confirmed in the NATO press release as well.

As part of his visit to Brussels, President Giorgi Margvelashvili has held a number of meetings with European leaders, including with European Council President Donald Tusk, European Commission President Jean-Claude Juncker, and EU High Representative for Foreign Affairs and Security Policy Federica Mogherini.