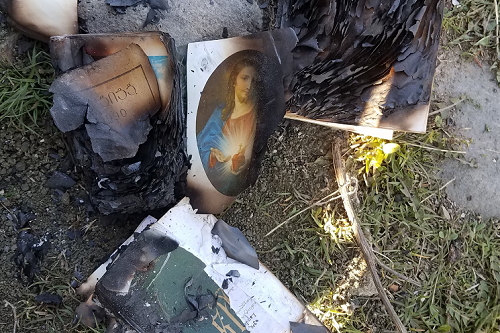 Burned prayer books and icons, Vale, Samtskhe-Javakheti. Photo: facebook.com/shotagikoshvili

Senior religious figures, including Catholic and Orthodox Christian leaders, have expressed their concerns regarding the alleged desecration of Catholic religious texts and symbols in a small town of Vale in Samtskhe-Javakheti region in southern Georgia.

The news was first reported in the evening of March 12 by a local resident, Shota Giqoshvili, who posted photos of burned prayer books and icons lying next to a small chapel in Vale where Catholic and Orthodox Christian communities reside side by side. Giqoshvili claimed the items were burned "intentionally," since the books and icons of "other denominations as well [implying Orthodox Christian]" were left untouched.
The Roman Catholic parish of Vale has promptly decried the "act of vandalism", a sentiment echoed subsequently by the Bishop of the Catholic community in Georgia, Giuseppe Pasotto, who said he was "saddened and appalled" by what had happened. "We should not turn a bling eye on it and it has to be carefully examined by respective government bodies," the Bishop stated.

Metropolitan Teodore of Akhaltsikhe and Tao-Klarjeti spoke in solidarity with his Catholic brethren, telling Samkhretis Karibche, a local news agency, that the incident was "a crime and an insult to the Church, icons and other sanctities that we worship." "The country has enemies and they are trying to instigate instability, but I think they won't manage to draw us into confrontation; people are smart and they understand that a sensible person would not intentionally do this," the Bishop added.

The incident was also denounced by the Georgian Muslims Union, a Batumi-based religious rights organization.

In an official statement, Public Defender Nino Lomjaria called on the law enforcement agencies to conduct a prompt and an effective probe into the matter. Investigation was reportedly launched under article 166 of the Criminal Code of Georgia involving unlawful interference with the activities of religious organizations.
According to the 2014 population census, Georgia is home to 19,195 Roman Catholics. Among them, 15,024 live in Samtskhe-Javakheti, making up 9.36% of the region's total population.