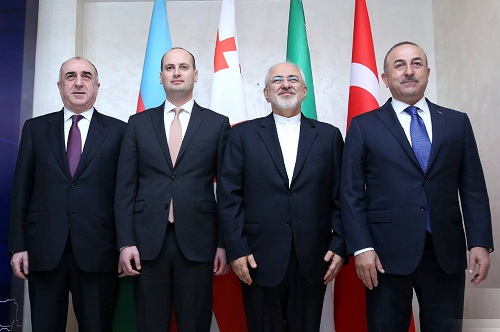 Azerbaijani, Georgian, Iranian and Turkish Foreign Ministers, March 15, 2018. Photo: MFA Georgia
Foreign Ministers of Azerbaijan, Georgia, Iran, and Turkey gathered in Baku on March 15 to inaugurate the regular quadrilateral meetings format of the four countries' top diplomats.

During the ministerial meeting yesterday, the foreign ministers pledged to deepen regional cooperation in various fields ranging from economy and transport to tourism and environment protection.

A joint statement of the four foreign ministers, adopted upon conclusion of the meeting, underscored the importance of regional cooperation in the field of transportation, particularly that of the "South-West" route, which would link the Iranian ports in the Gulf to the Baku-Tbilisi-Kars railway.
The statement also says that the ministers "stressed their commitment" to principles of international law on respect for sovereignty, territorial integrity and inviolability of internationally recognized borders of states, as well as to peaceful settlement of all conflicts in the region.

"We believe that this quadrilateral format will further enhance solidarity and cooperation among the peoples of the four countries and will serve the interests of peace, stability and prosperity in the region," Mikheil Janelidze, the Georgian Foreign Minister, said at a joint news conference after the meeting.
In Baku, Foreign Minister Mikheil Janelidze held face-to-face meetings with Turkish and Iranian Foreign Ministers, Mevlüt Çavuşoğlu and Mohammad Javad Zarif, respectively, discussing issues of bilateral political cooperation, and economic ties between the countries.