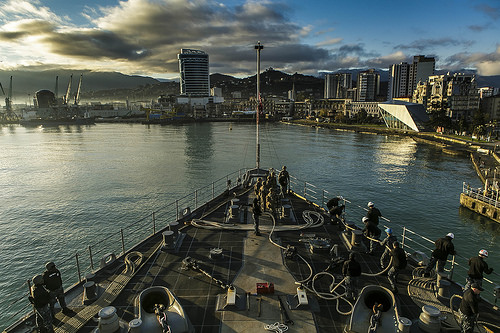 The USS Oak Hill in Batumi, March 17, 2018. Photo: U.S. Naval Forces Europe-Africa/ U.S. 6th Fleet
The USS Oak Hill (LSD 51), one of the U.S. Navy's dock landing ships, is making a scheduled port call in Batumi on Georgia's Black Sea coast on March 17-20.

The vessel, along with embarked Marines from the 26th Marine Expeditionary Unit (MEU), has entered the Black Sea to participate in the Romanian-led amphibious exercise, Spring Storm, on March 8-15.

The vessel will stay at Batumi port until March 20, and its crew will take part in joint exercises together with the Georgian Coast Guard.

The Interior Ministry, which is hosting the group, said in its statement yesterday that the port call was an effective tool for deepening the U.S.-Georgian cooperation.
"The port visit to Batumi demonstrates the shared commitment between the United States and Georgia to promote safety and stability within the region, while seeking unique opportunities to enhance our interoperability with NATO allies and partners in the Black Sea," according to the U.S. Embassy in Georgia.