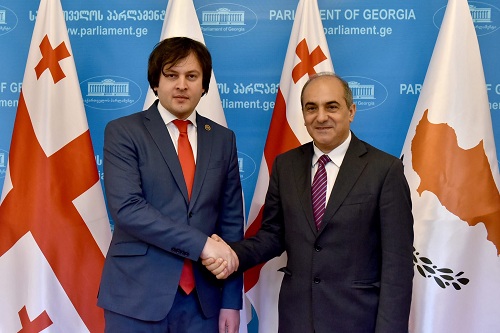 Irakli Kobakhidze and Demetris Syllouris, March 19, 2018. Photo: parliament.ge
Demetris Syllouris, President of the House of Representatives of Cyprus, is paying an official visit to Georgia on March 19-20.

On March 19, Syllouris was received by his Georgian counterpart Irakli Kobakhidze. According to the Georgian Parliament, the sides discussed issues of bilateral cooperation, including economy, tourism, culture, and the human rights situation in Georgia's occupied regions.

"We have common challenges related to our territorial integrity, and it is of utmost importance for us that we stand together and address our common problems with joint efforts," Kobakhidze said at a joint press conference after the meeting.

Syllouris echoed Kobakhidze's sentiments in his remarks, stressing the importance of Cypriot-Georgian cooperation in international fora, and reiterating the country's support of the sovereignty and territorial integrity of Georgia.

The Cypriot House Speaker met with President Giorgi Margvelashvili and Foreign Minister Mikheil Janelidze as well, reaffirming on both occasions the country's support of Georgia's sovereignty and territorial integrity, and of its European integration path.