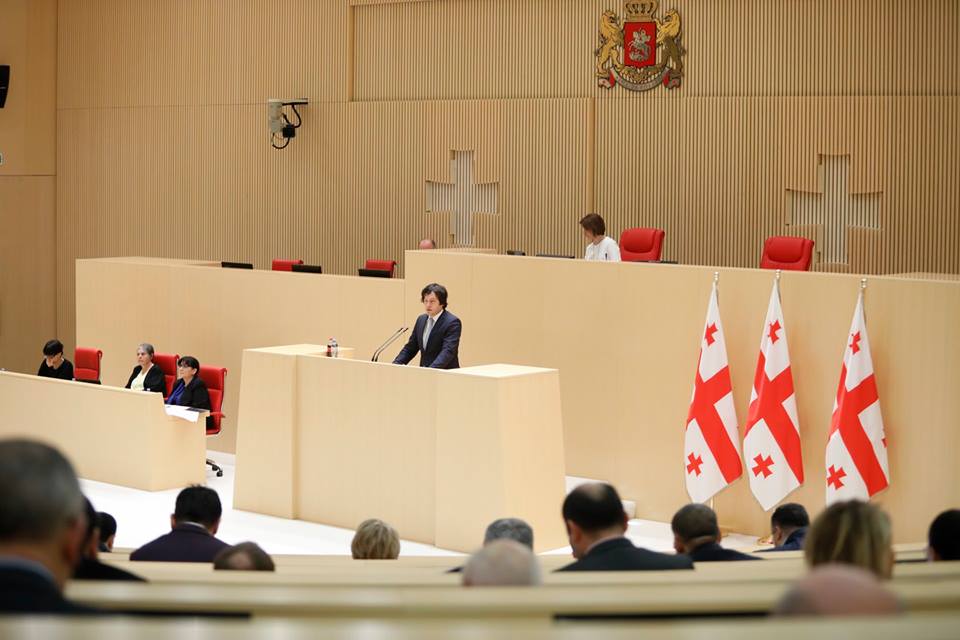 Parliament Speaker Irakli Kobakhidze addressing the lawmakers on gender quotas bill, March 23, 2018. Photo: parliament.ge
The Parliament of Georgia has voted down today the legislative proposal which was to set mandatory quotas for women to help increase their representation in the Parliament and Sakrebulos (municipality councils).

The bill, which was elaborated by a coalition of local and international organizations, and submitted to the Parliament with 37 000 signatures, was endorsed by three parliamentary committees last autumn. The initiative was also supported by civil society groups, as well as foreign diplomats accredited in Tbilisi.

The proposal was endorsed by Prime Minister Giorgi Kvirikashvili as well. In his statement yesterday, PM Kvirikashvili said the quotas bill would be "an important measure" for increasing women's political engagement, and would "significantly improve the political processes and the quality of democracy in Georgia."

Parliament Speaker Irakli Kobakhidze spoke in favor of the bill at today's plenary sitting, saying more women in the Parliament would mean "stronger Parliament, stronger constitutional system, and stronger democracy."

Some ruling party lawmakers were not convinced, however. MP Dimitri Khundadze, for instance, said today that "reserved seats" would be "an insult for ladies, since they have all the resources to enter the Parliament when they are politically ready." "I think, the primary criteria for the Parliament should be intelligence and experience," he added.

Another ruling party lawmaker, Gedevan Popkhadze, echoed Dimitri Khundadze's sentiments, saying the Parliament needed more "qualified" professionals, "irrespective of whether they are men or women." "The list should not be divided into men's and women's; such an approach is not right as it may never end," Popkhadze said.

As a result, the bill obtained 66 votes, falling ten votes short of the required 76. Fourteen ruling party lawmakers voted against the bill. MPs from the European Georgia and the Alliance of Patriots did not attend the voting. Two of the six United National Movement legislators (four were absent) voted in favor of the bill.

Speaking after the voting procedure, Parliament Speaker Irakli Kobakhidze said the ruling party lawmakers had "failed to reach consensus," citing "differences on certain details." The Speaker, however, noted that these differences would be talked out, and an amended text would be resubmitted to the Parliament the following week. "The principle will remain the same – to ensure at least 25% representation in the next convocation, and 1/3 in 2024."

The bill envisaged the introduction of the so called "zipper" system, where male and female candidates would appear alternately on party lists of candidates for parliamentary and municipal elections, increasing the number of women legislators to at least 38 in the next Parliament. According to the same bill, if a parliamentarian's or Sakrebulo member's mandate was terminated earlier than the end of his/her term, the next candidate of the same sex would take a seat in replacement.