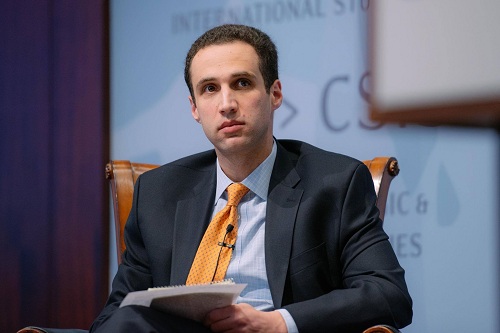 Jeffrey Mankoff. Photo: Center for Strategic and International Studies / Flickr
Jeffrey Mankoff is deputy director and senior fellow at the Russia and Eurasia Program at the Center for Strategic and International Studies (CSIS). Zviad Adzinbaia spoke with him on behalf of Civil.Ge about prospects of advancing U.S.-Georgia bilateral security cooperation.
How do you see the U.S.-Georgia security cooperation moving forward?

I think, there is probably going to be more focus on the bilateral level because there are challenges and obstacles to Georgia's integration within NATO in the near future. Also, given the current U.S. administration's difficult relations with certain European states, focus will be put on the bilateral side. This can include not only hard security, but also development, rule of law, and economic cooperation of various kinds.

Within this context, economic cooperation is significant, because Georgia's ability to defend its sovereignty rests to a certain degree on its economic viability. Moreover, Georgia's longer thinking of reintegrating Abkhazia and South Ossetia should be backed up by its attractiveness and soft power. On this path, the United States should focus on security assistance to Georgia, which will make the cost of further foreign attack high; however, security should not be the sole area of cooperation.

What could be the issue, within or beyond security, which would boost the bilateral U.S.-Georgia cooperation?

Georgia should make sure that it maintains its European course, and should enhance cooperation and integration both within the EU and NATO on its path of fulfilling Georgia's membership criteria. For the United States, providing incentives for the current or future Georgian governments in carrying out their integration reforms is significant.

In addition, it is in U.S interests to help Georgia, enhance its capacity and help in ways that reinforces Georgia's sovereignty. This is not playing chess with Russia – rather, it is acting in a way that the Georgian people believe is in their interests.

What opportunities do you see for both countries on this path?

If there is going to be a change in the Russian approach [in the aftermath of Russian presidential election], which I doubt, or/and any broad U.S.-Russia conversation happens, Georgia should be part of it. In addition, NATO's upcoming summit should also be an opportunity when it comes to Georgia's progress and its appreciation by the allies. Furthermore, interestingly, at this point, the existing tension of the United States with Iran has calmed down; however, if it ramps up again, of course, Georgia needs to be an important consideration in any U.S. thinking of strategic planning about Iran.

What do you see as central checks to boosting the bilateral relations?

Here, the limitations are that the current administration is in perpetual crisis, which seems to get worse over time. It does not have a lot of bandwidth for new strategic initiatives, or interest. With a couple of exceptions, there has been limited amount of thinking about America's role in the world. This started with Obama, it is not new, but currently it has become more intense.

What benefits do you think the United States sees in Georgia?

Having good relations with Georgia helps U.S. interests. It helps facilitate moving things east and west. For instance, if there is a concern about China's Belt and Road, about spreading Chinese influence in the interior of Eurasia, part of coping with it is making sure that the area remains open for other influences. And, having a Georgia that looks westward, and is democratic and open to the presence of the United States and European organizations, is an asset. In addition, if different kinds of transit infrastructure in that part of the world continue to improve, such as the Baku-Tbilisi-Kars railroad, having a country in a location like Georgia, with European and Euro-Atlantic agenda, helps the success of liberal model and ideas in Eurasia.

In addition, when a country like Georgia, can succeed in following the liberal political transition, it gives hope to some people in the neighborhood that they can also do so, even in the presence of Russian pressure.

What tools do you think Russia will employ against increasing U.S.-Georgia relations?

It depends on how far it goes. Russia still has a lot of leverage over Georgia, not only in the occupied territories but in Georgia as a whole. Georgia's economic dependency toward Russia has increased in the past years and Russia will try to use it as a leverage. In addition, Russia continues the process of borderization. They can continue these moves, including engagement of different economic actors, quasi NGOs, Church, and other pro-Russian institutions in Georgia.

How do you connect increased U.S.-Georgia security partnership with Georgia's NATO integration prospects?

If Georgia's military becomes more integrated with NATO, such as standards, equipment and more familiarity of operating in the NATO context, which has been the case in Iraq and Afghanistan, it makes the relationship easier. Georgia, in the absence of NATO membership, should continue to work with the United States and other NATO allies, and benefit from the expertise, training and equipment. And, when the decision is taken to integrate Georgia formally into NATO, the context will be ripe.