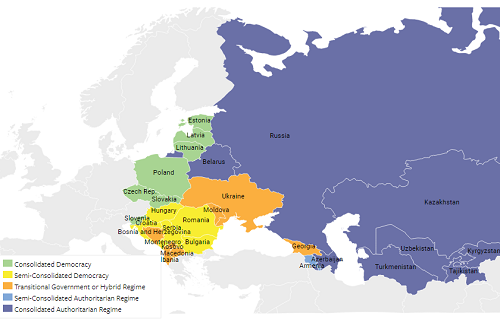 Nations in Transit. Source: Freedom House
Georgia's democracy score worsened in 2017 over the previous year, according to the Nations in Transit 2018, a country-by-country study on progress and setbacks for democratization in 29 former communist European and Eurasian countries, conducted by the U.S.-based rights watchdog Freedom House.

Georgia's overall democracy score in the report, according to the survey, is 4.68, lower than the figures for 2017 (4.61), 2016 (4.61) and 2015 (4.64) reports, and same as in the 2014 report. In similar studies released by the Freedom House in 2013 and 2012, the country's overall score stood at 4.75 and 4.82, respectively.

The ratings are based on a scale of 1 to 7, with 1 representing the highest and 7 the lowest level of democratic progress. The country scores reflect the consensus of the organization, its academic advisers, and the authors of country reports (the author for Georgia is not listed).

An overall democracy score is an average of ratings for separate categories, involving national governance; electoral process; civil society; independent media; local governance; judicial framework and independence; corruption – scores in all these categories for Georgia have remained unchanged – except the figures for independent media and judiciary. Georgia experienced 0.25 declines in both of these two components.

Georgia in Report Overview

Nate Schenkkan, project director of the Nations in Transit, writes in the report overview, that in 2017, 19 of the surveyed 29 countries recorded declines in their overall Democracy Scores, more than in any previous edition of the Nations in Transit.

"In Central Europe, governments that disdain independent institutions and seek to fuse the ruling party with the state are no longer exceptional," Schenkkan writes in the overview.
"With these deepening setbacks in the European half of the Nations in Transit region, it is no surprise that the countries in Eurasia most at risk of falling into authoritarianism—Ukraine, Moldova, Georgia, Armenia, and Kyrgyzstan - also moving in a negative direction," he adds.
"In Georgia, billionaire Bidzina Ivanishvili stepped down as prime minister after one year in 2013, but he retains control over the ruling Georgian Dream party, which features employees of his companies in its highest ranks. Ivanishvili's political vendettas and development plans for the capital Tbilisi continue to loom over Georgian politics," the overview also reads.

Country Report

The year 2017, according to the Nations in Transit country report for Georgia, "was, overall, a period of slight setbacks for Georgia's democratic development." "Georgian authorities found it difficult to strike a balance between the contradictory goals of advancing democratization on the one hand and consolidating power on the other."

"The trend of half-hearted democratic reforms that started after the 2012 elections has stalled in recent years. Georgia's democratic transformation will remain incomplete so long as the priorities of the country's ruling elites are split between democratization and staying in power," it says.

The report also reads that the decline in the Independent Media rating is due to "apparently politicized editorial policies at Georgian Public Broadcasting, continuing pressure on the critical television channel Rustavi 2, and ownership consolidation among pro-government private television stations."

The decline in the Judicial Framework and Independence category, the document says, is due to the "illegal deportation of dissident Azerbaijani journalist Afgan Mukhtarli to Azerbaijan and a high-profile case in which a foreign company faced punitive fines after a deeply flawed judicial process."