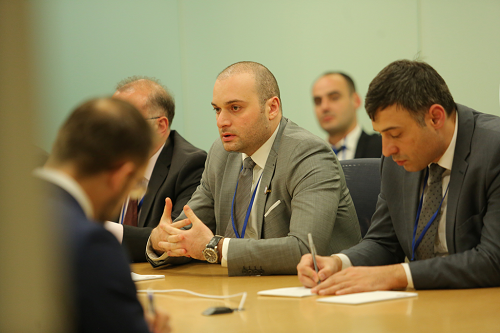 Georgian Finance Minister Mamuka Bakhtadze. Photo: mof.gov.ge
Georgian Finance Minister Mamuka Bakhtadze met with the representatives of the international financial organizations and investment companies on the sidelines of the annual Spring Meetings in Washington DC, organized jointly by the International Monetary Fund (IMF) and the World Bank Group.

Summing up the meetings of April 20-22, Minister Bakhtadze said, the representatives of the World Bank, the IMF, the International Finance Corporation (IFC) and the European Investment Bank, had expressed their "full support" to his recently announced financial reforms for developing small and medium-sized businesses.

"Georgia is moving from a reformer even more to a performer," Frank Heemskerk, Executive Director at the Board of the World Bank Group said, welcoming Minister Bakhtadze's invitation to Georgia next month.
As part of the visit, Minister Bakhtadze also met with the representatives of EU's Directorate-General for Neighbourhood Policy and Enlargement Negotiations, the Moody's Investor Service, the Millennium Challenge Corporation, as well as the Swiss Federal Councilor for Economic Affairs, Education and Research.
Finance Minister Mamuka Bakhtadze left for the United States on April 19. He will continue meetings in New York today, and return to Georgia by the end of the month, according to his press office.