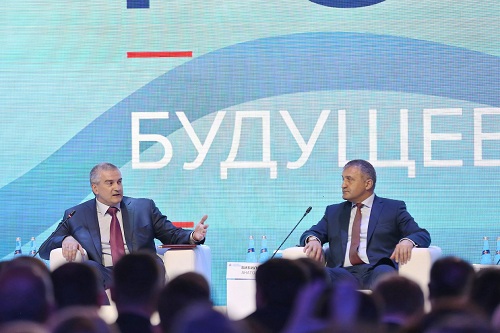 Sergey Aksyonov and Anatoly Bibilov at Yalta International Economic Forum on April 20. Photo: facebook.com/aksenov.rk
Anatoly Bibilov, the Moscow-backed leader of Tskhinvali Region/South Ossetia, attended the annual Yalta International Economic Forum in Crimea on April 19-21, where he met with the lawmakers from Serbia and the Syrian Economy Minister, Mohammad Samer al-Khalil.

In Yalta, Bibilov was hosted by the "prime minister" of the Autonomous Republic of Crimea, Sergey Aksyonov. Following their meeting on April 20, Bibilov and Aksyonov signed a cooperation protocol between "the Republic of South Ossetia and the Republic of Crimea."

At his meeting with the Syrian Economy Minister, Bibilov expressed solidarity with the Syrian people who, in his words, were experiencing "terror and aggression" from western countries, and added that the assistance that Russia was providing, would bring "peace and welfare" in the country.

He also told the Economy Minister that he wanted to deepen ties with Syria, and invited President Bashar al-Assad to Tskhinvali.

The Tskhinvali leader also met with the Serbian lawmakers - Bosko Obradovic and Ivan Kostic of the movement Dveri, telling them that "the Serbian and the South Ossetian peoples" had Russia as their "common strategic partner."
"We have positive feelings about South Ossetia, since we have many similar customs, traditions and views. We would like to visit South Ossetia and deepen our cooperation," Obradovic was quoted as saying by Bibilov's press office.
According to the press service, Bibilov also met with a group of Italian senators and businesspeople in Yalta, and discussed "a wide range of issues" including the possibility of launching "joint [economic] projects."
The Tskhinvali "foreign minister," Dmitry Medoev, who accompanied Bibilov in Crimea, held separate meetings with the representative of the Japanese political organization Issuikai, Mitsuhiro Kimura, and the Eritrean Ambassador to Russia, Petros Tseggai Asghedom.
The Abkhaz "foreign minister" Daur Kove and "economy minister" Adgur Ardzinba, who also attended the forum in Yalta, met with the Syrian Economy Minister Mohammad Samer al-Khalil, and invited him to Abkhazia.